It's a tale that we know so well: the transformative, touching story about a miserly Grinch who finds room in his heart for compassion at Christmas.  So now that there are officially three versions of Dr. Seuss' beloved story, which one will you be spending your time watching this holiday season? We've compiled some of the good and some of the Grinch-iest moments from each of the flicks.
Warning: Spoilers Ahead!
The 2018 Grinch tale spins a new story line when compared to the original 1966 version and the iconic 2000 Jim Carrey version. "Dr. Seuss' The Grinch" (a notable movie title change) introduces us to a modern-day Grinch, with lots of new friends and new technology along the way. The Grinch is not the grungy, onion-and-garbage eating Grinch that we remember from the Jim Carrey's hilarious rendition, but instead enjoys the finer things in life. With a specialty coffee machine in his house and a well-lit dining room and kitchen, this Grinch enjoys morning meals with his trusty pal Max as they sit at opposite heads of the table. While still a miserable 50-something (yes, we actually learn the Grinch's age!), this storyline seems to reveal his compassionate side a little more quickly than the others. This is shown in the abundance of new characters that are introduced in this version, a jolly fellow named Bricklebaum, voiced by Kenan Thompson, and a friendly reindeer named Fred. Bricklebaum is a friend who shows the Grinch genuine friendship despite the Grinch being a little different, and is obsessed with making Christmas "bigger" per the Mayor of Whoville's orders. Fred the reindeer is (amusingly) recruited by the Grinch to help pull the sleigh, but is relieved of his duties by the Grinch when Fred's family shows up to find him, another sign that this Grinch is perhaps a bit more compassionate than the last. It is with the help of all of his friends that he plans his Christmas Eve heist, which unlike the previous versions includes lots of technology. The Grinch uses GPS, maps and even makes a drone out of Max to plot his route for his Christmas Eve heist.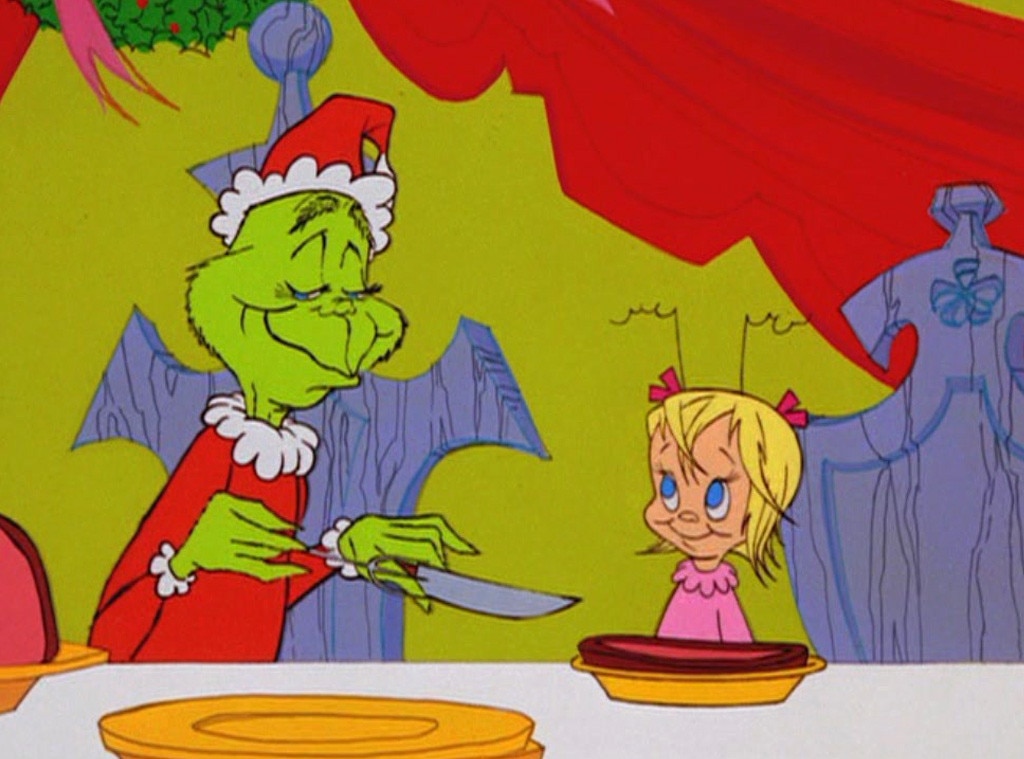 Dr. Seuss' The Grinch & Cindy Lou Who, 1996, Warner Bros. Television 
As we know, the Grinch's backstory becomes a big part of why he doesn't like Christmas while the 1966 "Dr. Seuss' How the Grinch Stole Christmas!" original version doesn't give us much history at all (except that his heart is two sizes two small – a theme carried through in each movie), we get a little insight into why the Grinch is so seemingly bitter in the 2000 and 2018 versions. In the 2000 "Dr. Seuss' How The Grinch Stole Christmas" version, we see Jim Carrey's Grinch get teased at school for his looks after trying to shave his classic green beard. He was well taken care of at home, but after falling in love with Martha May Whovier and being teased, he retreats to his lair far on Mount Crumpit north of Whoville. In the newest version of The Grinch, voiced by Benedict Cumberbatch, we learn of his unfortunate childhood of which much was spent in an orphanage. As other children got adopted and sent home with their new families, our most recent Grinch remembers Christmas as a day he often spent alone, with no presents, no Christmas tree, and no family.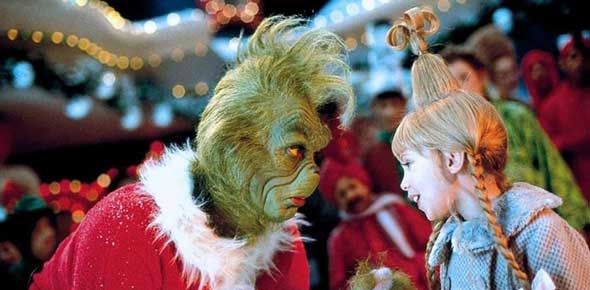 Dr. Seuss' The Grinch (Jim Carrey) & Cindy Lou Who, 2000, Universal Pictures 
The secondary characters in the 2018 Grinch make this movie realistic, modern and relatable. The character of Cindy Lou Who shows some real spunk in the 2018 version. She's a big sister to twin boys (unlike being the baby of the house in the 2000 version) and is a dreamer and a schemer. She and a group of friends plan to capture Santa on Christmas Eve so that she can ask him for a special favor – some help for her hardworking mom. Cindy's mom, voiced by Rashida Jones, is a single mom working as a nurse on the night shift (another modernized aspect to this Grinch movie). She has three children and works hard to keep her family afloat despite the chaos that you might expect of three young children.

Dr. Seuss' The Grinch (Benedict Cumberbatch) & Cindy Lou Who, 2018, Illumination 
Not only are the characters in this 2018 version more modern, but the soundtrack and narration also add to the new age feel. While we remember the iconic voice of Anthony Hopkins in the 2000 Grinch, and Boris Karloff in 1966 version, rapper, songwriter and producer Pharrell really adds a smooth, modern touch as the narrator to this classic story being told on the screen. The classic song, "You're A Mean One, Mr. Grinch," makes an appearance in this new film as well – but with updated lyrics and rhythms performed by Tyler, the Creator.
On the whole, each Grinch movie gets more in-depth than the last. We delve into the Grinch as a character who is in need of some love and kindness, and who ultimately finds compassion in his heart when he hears the Whos singing in Whoville on Christmas morning, despite the loss of their gifts and extensive decor. The 1966 version is ultimately the most classic of them all when it comes to that evil Grinchy grin, the songs, and the importance to finding the true spirit of Christmas. Jim Carrey's outrageous acting and slapstick humor make the 2000 version is the most catchy, funny and quotable. But the 2018 version is by far the most applicable to today's world (though perhaps not a timeless classic), providing real-life scenarios that we can all relate to. So no matter what you're looking for out of Dr. Seuss' The Grinch this holiday season – there's sure to be something for everyone. Don't miss out on making the newest Grinch movie part of your holiday tradition!