H+P Redux Residency Week Two: Elim Bolt + ET Anderson
March 29, 2015
---
Last Wednesday, Elim Bolt and ET Anderson ushered in the second show of the Hearts & Plugs Redux Residency, one of five shows as part of a concert series highlighting 10 bands on the Hearts & Plugs music label. Elim Bolt features a Southern-rock edge with dark undertones and sludgy guitars that coordinates with ET Anderson's blend of garage vibes and experimental R&B tunes. Both bands represent the rawer, more alternative side of the spectrum the label has to offer. From Elim Bolt's sordid-yet-honest lyrics to the madness behind ET Anderson's genre-bending setlist, these guys put on one hell of a sophomore show.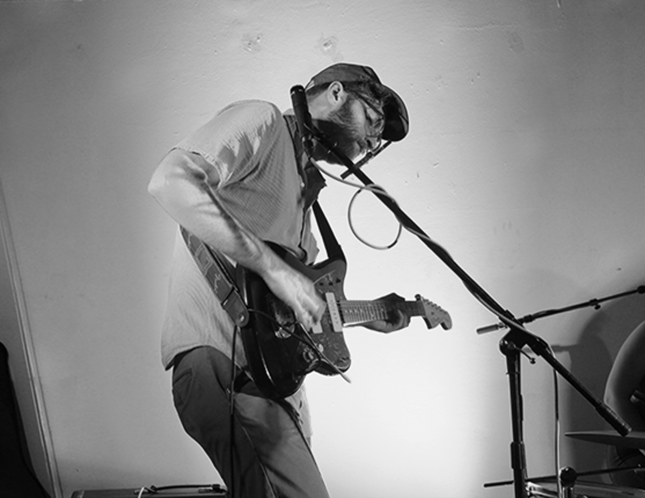 Johnnie Matthews of Elim Bolt
Gritty rockers Elim Bolt opened with Johnnie Matthews III on vocals/guitar, Jess Oliver wailing on drums, Brett Nash on bass, and Joe Chang on guitar and keys. Johnnie began his music career as one of the founding members of Florence's pop-rock group Sequoyah Prep School in the early 2000s and played bass for local indie rock band Company shortly after moving to Charleston. He formulated Elim Bolt in 2011 after realizing his talent for songwriting and debuted Nude South in 2012 under the Hearts & Plugs label. The Dingy, Slimy, Scummy! EP followed a year later in 2013 with the addition of Jess, originally of Columbia-based Can't Kids and People Person, as well as feminist-punk quartet HAUSWERK. "I'm constantly trying to expand and change the sound of the band," Johnnie says about Elim Bolt's progression over the past four years. He acknowledges how important it is to revel in the process of creating an album: "Currently I'm recording our third release and have been experimenting with some different sounds. Some of the tracks I've recorded with Wolfgang Zimmerman [at The Space] and others I've been doing in my home studio. It's been nice to be able to spend all the time I want in the studio and let the songs kind of work themselves out. I'm excited for [the album] to be done, but I'm definitely not rushing [the process]."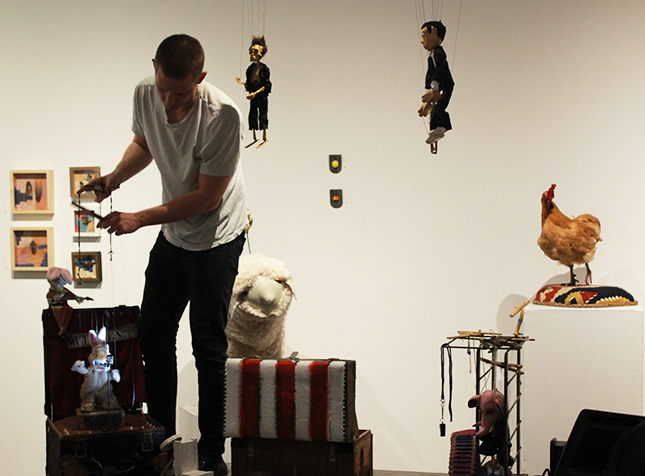 Mr. Bonetangles during his intermission performance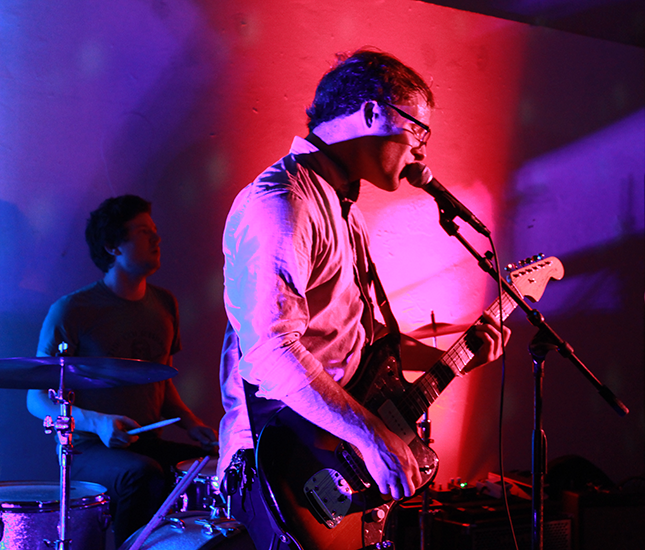 Tyler Morris of ET Anderson
Mr. Bonetangles
entertained the crowd during a brief interlude for the second week in a row, leading into a high-energy performance by ET Anderson, one of the newest additions to Hearts & Plugs. Bespectacled frontman Tyler Morris originally hails as a songwriter and guitarist of
Octopus Jones
but elected to break away from the band in 2014 to focus on growing his newest endeavor,
ET Anderson
, with pals Alex McCollum, John Fowler, Bobby Hatfield and Michael Crawford.  
Et Tu, ____?, 
the band's first full-length release, is a collection of chillwave songs with a nod to the psychadelic, similar to the likes of Grizzly Bear and Of Montreal. The themes range from a tone of straight vengeance ("It Don't Even") to unbridled honesty with a touch of vulnerability ("It's Not the Same") to the just plain gnarly ("Acid Earlier"—yes, it's exactly what it sounds like. Don't do drugs, kids.) Although slightly bizarre and, at times, tongue in cheek, Morris's form of self-aware eccentricity both in his stage presence and song-writing style is a breath of fresh air in a scene that sometimes takes itself too seriously.  
Both Johnnie and Tyler were ecstatic about the turnout and hope for similiar shows in the future. "I want to see more shows like [the residency] in Charleston," Johnnie says. "I think engaging the younger crowd needs to happen more in Charleston. Most venues are 21 and up, and that kind of alienates [the under 21 crowd]. After all, they're the ones that are seeking out the weirdo music that is going on in town. I just want to encourage all Charlestonians to become engaged in their local music scene, because there's some really cool stuff going on. They just gotta look." 
The third show is coming up fast this Wednesday, April 1.
Run Dan Run
, featuring H+P founder Dan McCurry, is opening the show, and Nick Jenkins (formerly Mr. Jenkins) will round out the night with his newest project, 
Infinitikiss
, in celebration of his album release the same night.  Doors are at 8 p.m., show starts at 9 p.m. You can still 
get tickets
 for each show for $7/ADV or $8 at the door, and beer and wine will be available for purchase at the event for those 21+.