Sally K. Halsey of Carriage Properties was the proud winner of this watercolor, pen, and ink piece titled "Chaos on a Cow'" by local Charleston artist Richard Hagerty. At this event, various works by up-and-coming local artists were auctioned off. We thought this one was the most well suited for the Magical Mystery Tour theme, and it immediately caught our eye (well, the strawberry tree did). Hagerty's work will be on display at the City Gallery at Waterfront Park this coming fall.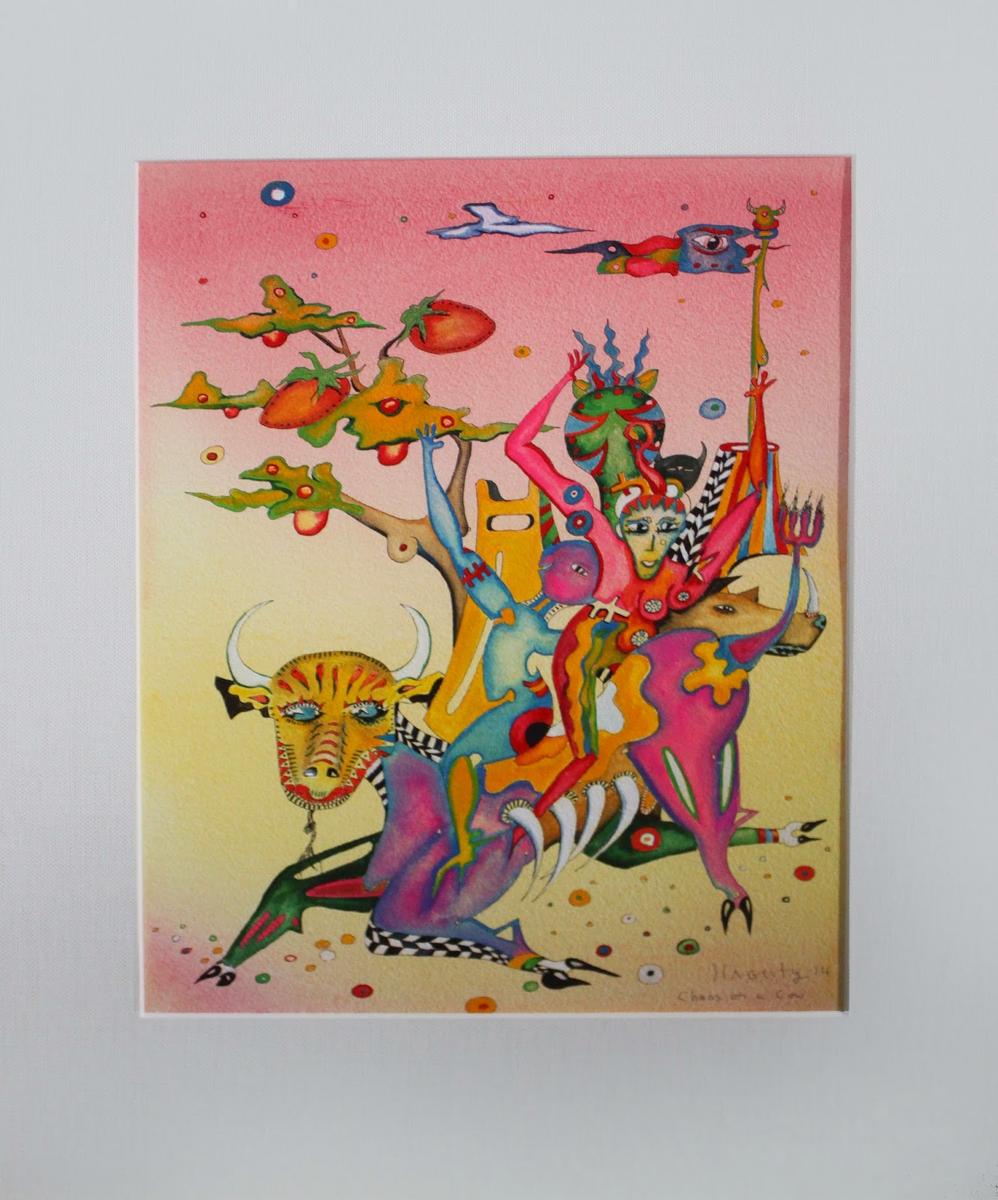 We love these two ladies above, Elizabeth Gumb (L) and Kristin Romness, co-chairs of the Gibbes Society 1858, in their psychedelic-print shift dresses. Check out Elizabeth's yellow patent-leather box purse (Library vintage), scarab ring (Candy Shop Vintage), platform wedge shoes (Prada), and dress by Thread Social.
Kathleen Hodgson of Charleston is wearing an authentic woven wool-blend suit from 1972 that her mom wore as her adieu ensemble following her wedding reception, paired with tall vintage brown-leather boots. The fit, the cut, the fabric—everything is still stylish today. Now, that's taste that stands the test of time! One of our favorite looks of the evening.
Above, Larry James, distribution coordinator at Charleston Magazine, is dapper in a vintage plaid tumeric-colored sharkskin blazer and skinny tie with green glass metal frames. He completes the look with modern loafers and corduroy trousers.
Above, Rob Bouton, actor and owner of Queen Street Grocery, and Lasley Steever, director of public programs and special events at the Gibbes Museum, respectively sport a vintage two-tone tux and poppy-printed tent dress that was her grandmother's. Doesn't get much better than this!
Above is Andrew Steever, owner of Squarepoint Design, wearing brown, including a velvet blazer, ascot, trousers, and Rives's grandfather's shoes. What we love most is the white belt, which is a classic piece of style from this era, though Andrew actually made the belt himself when he was a teaching assistant at FIT. He's our male fashion hero of the evening! Rives Poe, instructor at Ashley Hall, is wearing a silk caftan that was her grandmother's, as well as a vintage sterling-silver chain paired with Mary Janes.
Joy Sims (L) sports a late 1960s–early 1970s look by Jessica Howard, a modern label offering a revival style. Katherine Doe (R) wears a handmade embossed faille floral frock that she found on Etsy. We love how she paired the purple stockings with the wine-colored Mary Jane wedges for a great look that would make all of the Brady girls jealous. Katherine is sporting the best of Cindy, Marsha, and Jan, for sure!.
Check out this fantastic example of a men's button up caftan from the 1960s worn by Anthony DelPorto (above). Katie Shayda (below), owner of KS Luxe Artistry, is wearing a vinatge Yves Saint Laurent silk scarf and Louis Vuitton bag, Alexis Bittar bangles, House of Harlow necklace, and a dress by Matilda Jane.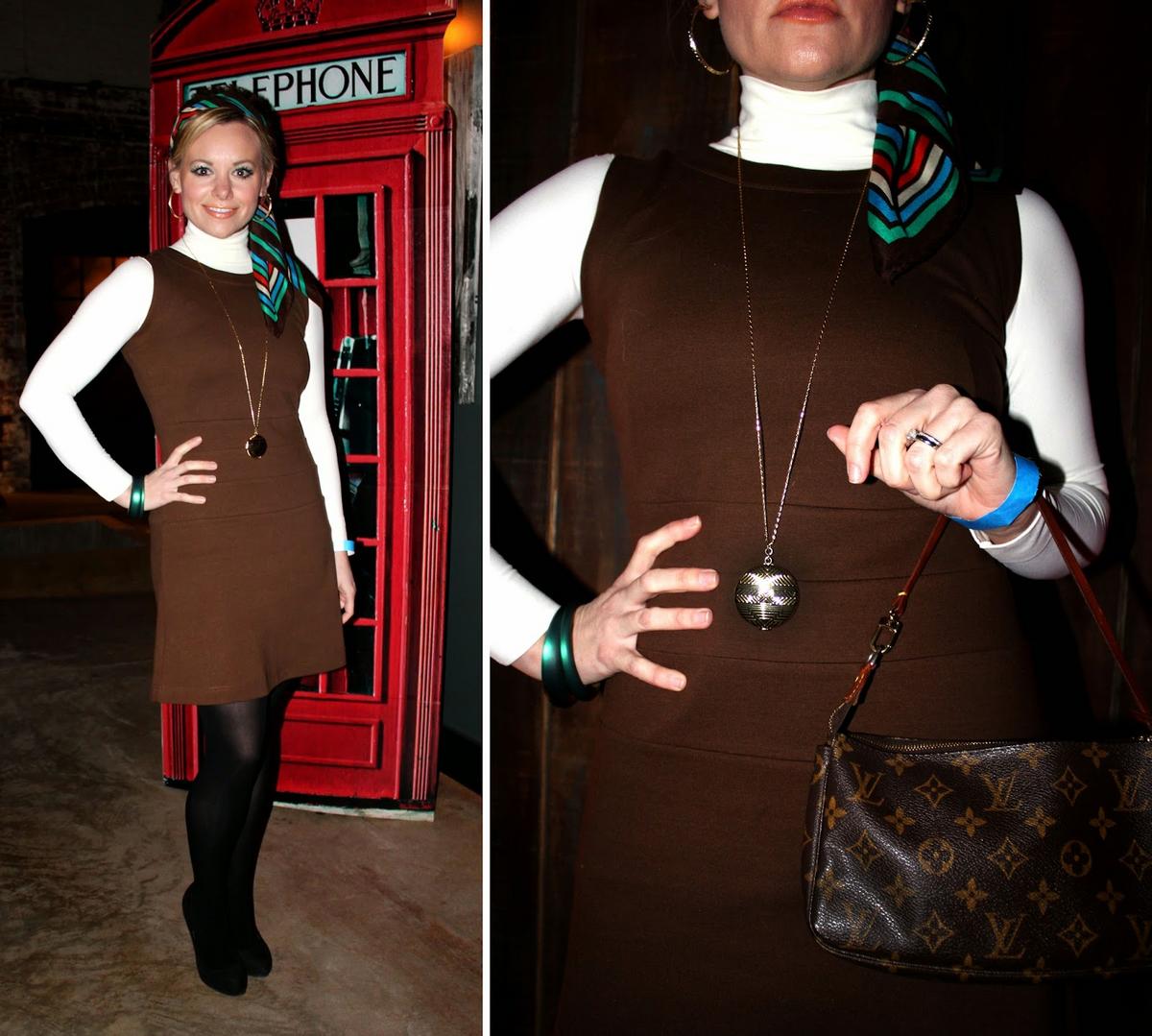 We love the two couples above, who are equipped with all things 1960s–1970s, including tie with cardigan, knee-high socks, patterned tights, vest with wide-collared shirt, AND their shoe game is on point! (No pun intended, but check out those multicolored suede flats!) 
L–R: Dave Boring, Jena Clem (Gibbes Events & Rental Coordinator), Rebecca Sailor (Gibbes Curator of Education), and Dave Sailor. 
Brown leisure suit with white leather loafers, electric tomato-red shift dress with covered-button wrist closure, double-breasted jacket with turtleneck, gold-coin necklace, and those belts?! This group has surely got it together!
L–R: Magga and George Bullwinkel and friend.
We love the flight crew and random "passenger"! Unfortunately, they were so busy on the dance floor thatnwe did not get an opportunity to get on a first-name basis with them. Besides, how fun is the Mile High Club if you know someone's name?
Groovy, Baby!