art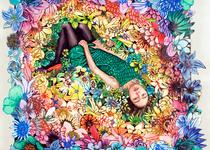 BY: Helen Mitternight
Art looks at how we see ourselves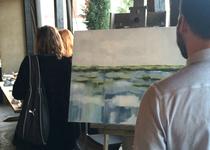 BY: Helen Mitternight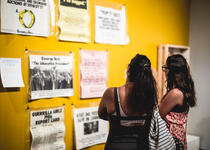 BY: Mac Kilduff
Searching The Halsey Institute's Bizarre Bazaar, the gallery's yard sale of thirty years of exhibition materials, for the perfectly odd find.
BY: Joan Perry
There's a mystery on Queen Street, and the clues are as big as a building. Although there's quite a bit of art on our city's walls as of late, this one seems to be a little more under the radar.
BY: Joan Perry
With all the art going up around town in preparation for Spoleto, it's easy to overlook some creations that have been right under our noses the entire time. Here's a little gem from Meeting Street.
BY: Joan Perry
Our city is becoming even more colorful as local, turned internationally successful artist get's the go-ahead to display his art on some of Charleston's most well known buildings. Have you seen it?
BY: Instant Grit
If you've seen incredible art being created on storefronts around downtown Charleston, your eyes don't deceive you, there's amazing work that's starting to grace our city. Here's just a sneak peek.
BY: Ayoka Lucas
Charleston Supported Art is providing amazing opportunities for artists to showcase their work. Come be a part of this nationwide movement March 6th and learn why it is so vital for our local artists.
BY: Jenny Keenan
Hanging a gallery wall may seem scary (lots of space = lots of room to mess up, no?). But I promise it's not. Here are DIY tips for creating an AWESOME installation of pieces you love
BY: Stephanie Hunt
What to do on (another!) soggy day? Head to the Halsey for Spoleto's last splash, where hundreds of books, mags, & catalogues have been sculpted, sawed, stacked, whacked, carved, glued... transformed
BY: Chassity Evans
I scouted out local talent Sarah Boyts Yoder's latest collection at the Michael Mitchell Gallery—in it I happily found a hairdo à la Georgia O'Keeffe, baby britches, and color and crosses aplenty
BY: Cortney Bishop
The collected (as opposed to the decorated) aesthetic is getting hot. Here's how to achieve the look in your home, plus, some stunning inspiration from a favorite artist of mine—Slava Roubanov
BY: Chassity Evans
Beachy art. Summer may be coming to an end, but you can keep it alive in your home with these colorful pieces, including one from Charleston's own Sarah Boyts Yoder
BY: Rebekah Jacob
Tips and guidelines to help art collectors of all levels select the right frame
BY: Joan Perry
Have you seen the off-the-chain urban murals in Avondale? Check it out
BY: Rebekah Jacob
The past two posts have prepped you for it—for buying art on your own. Use this final installment as an easy reference when you go to purchase (like how to tell between a vintage and a period piece)
BY: Cortney Bishop
Patriotism doesn't have to be a seasonal, summertime display. Here are some chic ways to incorporate the Stars and Stripes into your year-round home décor
BY: Rebekah Jacob
In Part One we covered the basics—how to wrap your head around photo collecting and some tricks of the trade. Now it's time to get going by utilizing the host of resources available (and listed here!)
BY: Rebekah Jacob
Bottom line? Anyone can buy art. And adding photography to your collection is fun—here's a few tricks of the trade, including some good warnings (like using caution with emerging talents)
BY: Rebekah Jacob
You don't want to lose precious photos—like, say, this uber-cool Isaac Hayes image by Ernest Withers—to Charleston heat. I've got 4 tips for keeping your fine art and family shots intact
BY: Jenny Keenan
Fill up your heart and walls with simple kids' artwork and large-scale pictures