Trish McEvoy
BY: Andrew C. Petersen
So we've talked about how brushes are just as important (if not more!) than makeup itself when it comes to achieving a perfect application. Now it's time to throw out those dirty, disgusting...
BY: Andrew C. Petersen
Dull, gray, cold weather has not been the only obstacle that my fair ladies have been dealing with. The real enemy of the season is dull, lackluster skin that this weather brings to the usually fresh...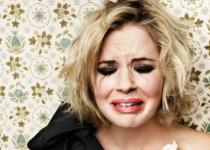 BY: Andrew C. Petersen
Arguably, breakups are one of hardest feats that life has to throw at us. Fortunately, you have me to guide you through this-because goodness knows I've been there a time or two! I don't hold the...
BY: Andrew C. Petersen
Spring is here, baby! And how do I know? First, my car that is normally white is now a creamy mushroom soup-shade of yellow. But who cares about my car! It's the second reason that is really...