Memorial Day
BY: Instant Grit
On Wednesday, May 28 Charleston's burger boutique and pong lounge, HoM, is making National Burger Day an entertaining holiday for everyone by offering unique ways to celebrate including a city-wide...
BY: Rory Gruler
BY: Rory Gruler
BY: Instant Grit
Charleston's golden season—it's officially here! To celebrate, we've put together a Grit guide to summer in the Holy City. Read on for a recap: including what to do, what not to do, what to...
BY: Desmond Kinlaw
Memorial Day weekend is here and it's sure to be filled with parties, cookouts, beach excursions, etc. I'm going to focus on what I think may be the two most popular: the backyard cookout and the...
BY: Rebeccah Connelly
While Memorial Day has its origins in a much more somber place, it has also come to mean the beginning of summertime. And summertime means grilling. One of my favorite things to have from the grill...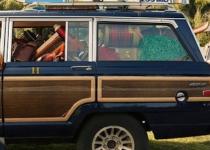 BY: Desmond Kinlaw
After taking a quick trip this past Memorial Day Weekend—and heading into prime long weekend season (July 4th, Labor Day, etc.)—I started thinking... As exciting as all that is, there's still a...