Memorial Day
BY: Instant Grit
Burgers, beers, and balls are really all you need to start off one of the best weekends of the summer here in Charleston. Win a scavenger hunt and get those burgers and beers for free!
BY: Rory Gruler
PHEW. After a Memorial Day sprinkled with somber news, we saw a high-speed car chase, T-Rav and crew slinking through town, the whole city LOSE IT when Comcast went out, & SC Sen. Robert Ford resign
BY: Rory Gruler
QUIZ TIME: Which Holy City singer made it to Billboard's #1? Which moody Brit got stranded on a Lowcountry isle? How old's our state? How much does parking cost on Folly? These answers and more here!
BY: Instant Grit
We've been counting down the days to summer and adding up the reasons to be more than pumped it's here. Here's your complete guide to living it up! Plus, how to win a free blowout from Tease Dry Bar
BY: Desmond Kinlaw
The start of summer is here! I've got good-looking gear for this weekend's activities, plus some cool stories on local brands
BY: Rebeccah Connelly
You may think you make the best ribs out there—but these babies will certainly be your first runner-up. Calling for both beer and bourbon, this recipe's perfect for your Memorial Day celebrating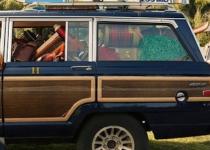 BY: Desmond Kinlaw
Get packing, and I'm going to tell you how. Here are my all-inclusive weekend traveling essentials and tips for those great-escape summer days ahead