Father's Day
BY: Instant Grit
Can't figure out what to dad for Father's Day this sunday? How about some of the manliest kitchen tools around? These handcrafted wooden items will make the father in your family feel like he's king...
BY: Instant Grit
Make your dad happy with the Father's Day offerings from Caviar and Bananas. The gourmet market and cafe is carrying both The Mixologist Cocktail Kit and the Charleston Burger Bliss Grill...
BY: Natalie Mason
Father's Day is a week away from Sunday so it is time to start thinking about gifts. I think denim is a great idea. My dad and Matt both are not shoppers at all, but they wear jeans all the time, don...
BY: Holly Herrick
My father was (and still is) many things to many people: a busy corporate executive overseeing a large staff, a friend to many, a close brother to his brothers Jim and John, a loyal husband, a...
BY: Rebeccah Connelly
Striking Alchemy "The father's job is to teach his children how to be warriors, to give them the confidence to get on the horse to ride into battle when it's necessary to do so. If you don't...
BY: Tim Brennan
(l to r: US magazine, Ultimate Classic Rock, and Babe Walker) When I found out that I was going to be a dad, I was thrilled. The word "thrilled" is so appropriate because it sounds like I was...
BY: Devin Grant
You see that stately-looking fellow pictured to the left? That's David Grant: local writer, former advertising idea man, and 30-year resident of Charleston. Some call him a...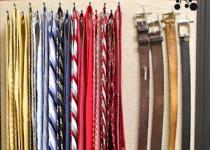 BY: Elisabeth Bova
I hope all the hardworking dads out there had a wonderful Father's Day! I had a few other things planned for Mr. Bovagoods this year, but I am thinking next year this closet organizer is a...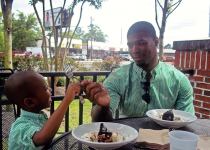 BY: Desmond Kinlaw
BLOG OF THE WEEK: The blog that got us all choked up just in time for Sunday's salute to dads everywhere—this is one post the Grit team hopes will make the rounds and back again. Happy Father's...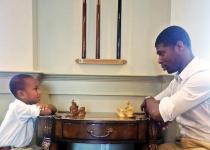 BY: Desmond Kinlaw
Lately I've been noticing a trend in guys. A very bad trend, I must say. Simply put, there are things that many men my age and older can't do. No, I'm not talking about things like extracting an...