twitter
BY: Rory Gruler
Bomb threats, kids getting shocked in pools, and puppies with pipes on their heads won't stop Spoleto and all its amazing art visible around town jump starting this Memorial Day weekend.
BY: Rory Gruler
When it rains, it pours, downtown floods, again, Southern Charm is finally over, T-Rav has a baby (and a newborn) and the College of Charleston is almost out for the summer. Your Twitter roundup.
BY: Rory Gruler
Valentine's Day came and went (thank God), our own James Beard got a finalist spot, and NYC and Mother Nature are letting us know how they really feel about Southern Charm in This Week in #CHS Tweets.
BY: Rory Gruler
Ayoka dreams of models, sea turtles totter home, a gator gets lost, a plane hydroplanes, and much, much more
BY: Center for Women
It's no secret: recruiting the best employees is a challenge. Using social media will help—but only if you use it correctly. Here are tips (like which site's the most effective) for doing just that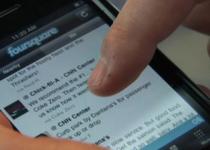 BY: Ashley Caldwell
Six quick tips for keeping your private life, well... private online, especially when it comes to location tagging
BY: Rory Gruler
CofC Basketball's Andrew Lawrence heads to Great Britain, planning begins for CFW 2013, ACs get swiped in the hot Carolina heat, partiers brawl with police on Folly, and more this week on Twitter
BY: Rory Gruler
Marley Lion, the housing market, and King Street-yogis are just some of what's been trending this past week on Twitter
BY: Rory Gruler
From corn-flavored ice cream to pearl-adorned pub crawls, check out what's been trending this week in #CHS