twitter
BY: Rory Gruler
SC dog with pipe stuck on his head seen free of pipe -- http://t.co/MA9mEV3qcG pic.twitter.com/1PQq8xoH3M — WCBD (@WCBD) May 19, 2014 Quick! Put an air duct around its head! RT @LCWxDave: This...
BY: Rory Gruler
Search/Rescue for James Miller 30 of Charleston continues after he allegedly went into the water from cruise ship off the coast of FL @WCBD — Matt Bise (@MattBise) April 28, 2014 Coast Guard says...
BY: Rory Gruler
BY: Rory Gruler
BY: Center for Women
Post by Pat Eardley (right) According to a 2011 study by the Pew Research Center, women use social media more than men. This would seem to give women business owners a bit of a leg up when it comes...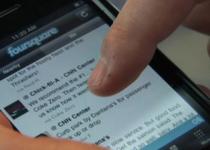 BY: Ashley Caldwell
Social media's explosion has penetrated every aspect of daily life. "There's an app for that!" isn't just a saying anymore—it's quite true! The brainiacs at Google, Facebook, Zynga, and countless...
BY: Rory Gruler
BY: Rory Gruler
BY: Rory Gruler