Tim Brennan's Blog Posts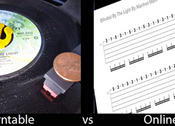 On a recent 11-hour trip to a gig in Cleveland, I thought back to all the changes that have happened since my first road trip.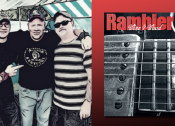 This year my band released our fourth CD. We did it all wrong. Way wrong. So, for anyone who hasn't liked my review of their music, feel free to take shots at mine.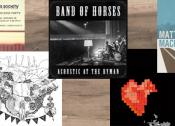 Introducing you to some local music through the evil world of Spotify.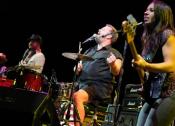 Why you should be at the Windjammer on Saturday.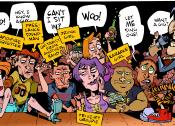 If you're a musician or attend shows on a regular basis, you might've come across these types. They're at every show, in every crowd, and they're experts at pissing people off.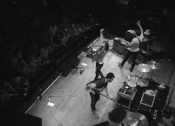 Music blogger Tim Brennan reviews the local band who just released their new, six-song album, Good Luck.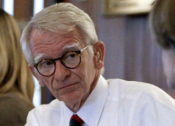 After laying down the law on his kids at his house, blogger Tim Brennan draws comparisons to Mayor Riley laying down the law on bars and restaurants wanting to stay open past 12am on Upper King.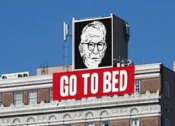 Careful! When the clock strikes 12 midnight, and you're in downtown Charleston, you might be turned.... away from all bars. Because they're closed. Weigh in on this topic, and speak your piece.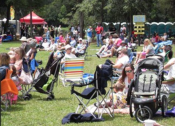 Don't find yourself in a jam, and miss all the bands at this summer's first big music festival on the lovely grounds of the Charleston Tea Plantation. Here is a set by set list of who's playing.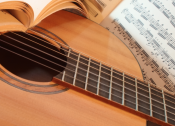 Most people teach themselves how to play a few chords on guitar, but when a friend asked Tim Brennan to recommend a good guitar teacher for his son, he drew a blank. Who are YOUR favorite instructors?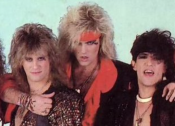 Most band names are stupid. Rolling Stone recently called "The Beatles" the worst name in rock. Dave Grohl called the "Foo Fighters" a stupid name. So, how do you make your band name less stupid?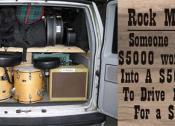 Mark Bryan of Hootie and the Blowfish, returns with some heavy hitting musical friends for a panel discussion on the challenges bands face as they set out on a tour.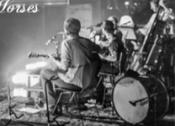 MORE MUSIC! Tim Brennan reviews three new CD's by local artists Band of Horses, Dunder Chiefs and Fowler's Mustache. These new albums are sure to mix up your music no matter what your tastes.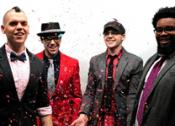 Too many benefit shows to choose from? Well, the band A Fragile Tomorrow brings a new meaning to the word "benefit" with their show at the Windjammer this coming Saturday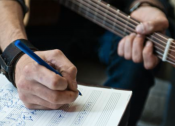 Darius Rucker, Mark Bryan, and Cary Ann Hearst uncover the secret of songwriting at CofC's In The Mix Series. This once in a lifetime event gave a look at the true source of amazing music.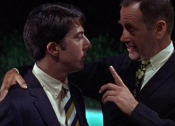 Young musicians (and all you creative types out there), during this season of gatherings, beware of those relatives and family friends trying to "help you" with their own brand of career advice...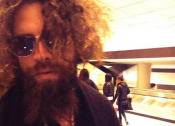 Actually, don't call it lying. It's fiction. Entertainment. Reality. Ethical? Who cares? Lately, rewards from lying are getting greater—just ask Elan Gale or the waitress who faked a bit of bigotry...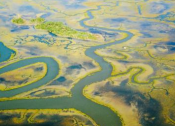 When done right, getting high can be a very, very good thing. Therapeutic, even. My wife and I did so the other day--from Sullivan's to Seabrook, we were way up there. Here are 15+ pics from the trip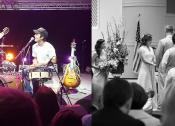 I'm sure you've asked yourself, "How is a wedding like a CD release concert?" This question has kept you up at night. Now I present to you my 13 answers. You may now rest easy.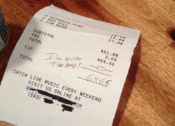 The other night, a preconception of mine was challenged: I always tip bartenders when I play a gig, but one band member I overheard strongly disagrees with that. What do you think?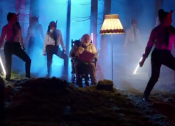 It's Friday. Have a laugh. You need it. A YouTube hit, with a killer marching band tucked in there, too (P.S. This Sat: Tyler Mechem opening for Michael McDonald; 3 Band CD release at the Music Hall)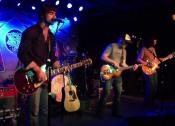 These three bands broke all of my rules for planning a big show—they're basically doing the opposite of what I'd do. But I'll tell you why this is still a big-time must-see performance...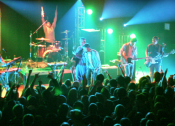 Murder, weed, guns—they're the main themes of MIA's 2007 hit "Paper Planes" and Stop Light Obervation's Grit video submission, which is a ballsy cover of the song live at the Music Farm. Video here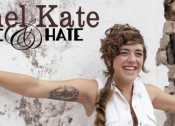 The debut CD from the former lead singer of The Shaniqua Brown is a departure from her former band's punk/metal reputation. Why Shovels & Rope, Gillian Welch, and Neko Case fans will get into it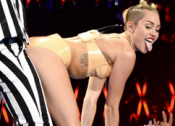 Here's why the Miley Cyrus episode clogging the Internet this week bugs me, but it's not what you think... (hint: it's kind of worse)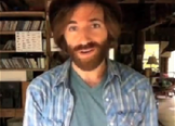 Where has Crowfield gone? For his part, singer Tyler James Mechem disappeared into the woods and emerged with this song and video. Spoiler alert: no Sasquatch was found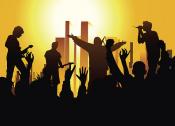 Watching A-Rod got me thinking: How does someone—be it a baseball player, a writer, or a band—go from the minors to the majors? Here are my 4 CRITERIA for being a great band (or artist, or employee..)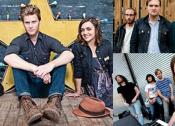 Confession: I went for the smaller acts. Here's my take on the big show at the Family Circle Stadium last week, plus photos and my favorite act of the night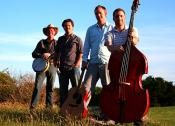 What do the bands named above, Spoleto, the Appalachian Trail, psychoactive homemade liquor, and Sanford have in common? This blog post. Read on, friends. Read on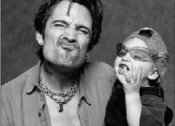 ... Or am I lying to myself? IS there life in rock and roll after becoming a father? Here's what my fellow dad-friends and I have figured out so far...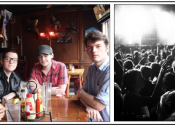 What happens when a small local band goes on tour? Does it guarantee fame? Break-ups? Bad tattoos? I sat down with 2 soon-to-be-touring groups at Blind Tiger to find out the plan... if there is one
How's Charleston handling the marathon bombings? This blogger's spot-on take stayed with us—plus, find info on how you can stand with Boston this weekend, here in Charleston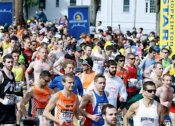 What kinds of people did those bombers target? I'll tell you—because when I think about what happened this week, that's who I'm thinking of... They're a force, make no mistake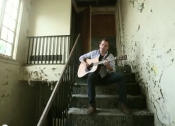 Which local band has the best video of 2013? You help decide—the winner gets $250 bucks. Check out the first entry and give it a thumbs up or down...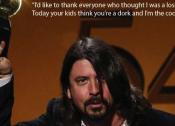 Can emotional scars make awesome tunes? Do well-adjusted teens signal the end of quality rock? I may have a solution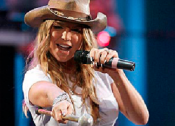 Style tips for aspiring musicians (from a guy with zero fashion sense): Don't go onstage looking like a roadie, what I think about bands in costume, is Charleston's "praire rock" look done? And more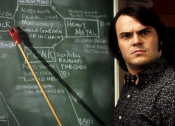 Though you sure can't learn the definition of ironic from Alanis Morissette, I discovered Saturday night that if you listen closely, the Charleston duo Shovels & Rope can teach you a thing or two...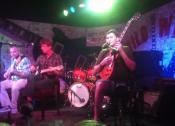 The musician from Fowler's Mustache who nearly lost his life last summer quietly took to the stage last night, covering Bob Dylan's "I Shall Be Released" and reminding us to embrace the little things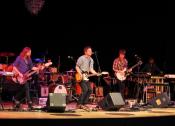 There was plenty of chatter over whether Tim was spot on in his assessment of Luke Cunningham's performance in particular...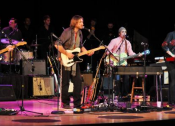 When you perform at the Music Hall, make no mistake: it's SHOWTIME. How did the local acts do? Here's my take on performances by Luke Cunningham, Slow Runner, and the Explorer's Club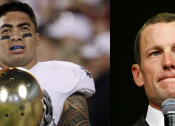 The Manti T'eo story is weird, and yet it's currently drowning in the murky waters of Lance's arrogant mea culpa. Tim reminded us that those "dangerous" musician types may not be so bad after all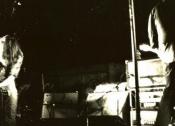 ...a lot of things. The list of scandal makers in sports (and finance and Congress and so on) is growing. Sure, nobody's perfect, but I have to ask: Could rock and roll be the last noble profession?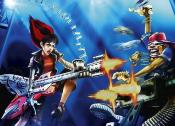 Oh, it sounds tough. But I can predict who comes out on top of every single one of these "contests." Every time. Am I that good, or is it true that the house always wins... Find out here.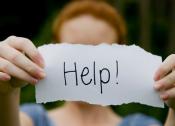 Sex, drugs, and... well, suicide sells. Why artist types can't imagine themselves out of misery, and why the music industry can't get enough of it. (Caution: I don't have answers, just big questions)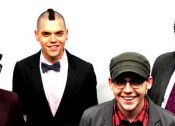 The guys in A Fragile Tomorrow have friends in the Rock & Roll Hall of Fame. Yet locally, the power pop stars are virtually ignored. How 'bout we all take notice? We can start with their show TOMORROW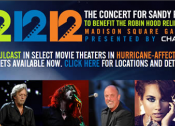 Kanye in a skirt, fist-pumping Rolexes, and 6 hours of prime-time TV—so went Sandy's relief concert. Comparing that to Katrina's has me wondering: what if a storm hit Chas? What would ours look like?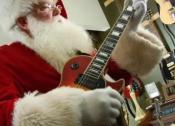 They may have rhythm, good looks, and a magnetic personality, but I bet they don't have a refrigerator that looks like an amp. Here's this and more great gift ideas (from an award-winning blogger...)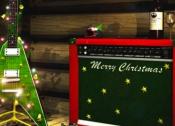 It was Christmas Eve babe / In the drunk tank / An old man said to me: won't see another one... A slightly unconventional list of tracks that doesn't include Ives or Sinatra (Run D.M.C. anyone?)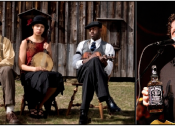 I have ideas, including Jason Isbell, the Carolina Chocolate Drops, and the viability of a tribute band named ZZ Topless. Plus, we'll discuss which are better—real or fake. See? I have ideas...
My advice for taking in Friday night's show at the Music Farm, in a mere 20 Tips or Less. Really, buy me a Guinness and follow my advice. Only some of it though... Most of it doesn't even work for me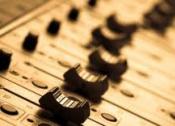 Sound(wo)men. Hate 'em or love 'em, the people who work the knobs at your gig can control your fate. Here I explain how, and give examples of what NOT to ask them (e.g. Hey man, where's the bathroom?)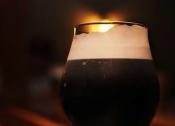 Last Wednesday, I set out in search of traditional Irish music. Instead I found Gerry Kieran, no live music, a bottle of Connemara, and a damn good clubhouse
Do yourself a favor and read this: Local kids, too young to drink, set to release a CD with a major record producer at the controls. Why? There's much to A Fragile Tomorrow that may surprise you...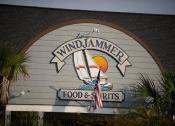 Here's what happens when a patron blasts the IOP mainstay for (GASP!) allowing children into their family and tourist-friendly beach bar...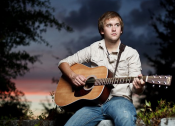 Topic A (Tyler Boone's new release, upcoming gig, and marketing scheme) + Topic B (Will local King City Records rule our airways?) = The Big Question: What does it take for a local band to make it?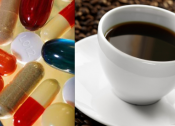 Adding childcare rooms to bars, drug insanity, whether I'm the creepy old guy at the end of the bar, YES you can buy me a beer, and a dozen other sleep-deprived musings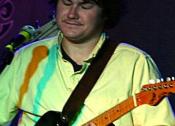 When Nick Collins III of Fowler's Mustache picks up his guitar again, it's going to be different than any single moment that came before it in Charleston music
Should you play at a big-name, cavernous venue like this if you can't draw the crowd, or are you better off at the Tin Roof with a couple dozen devoted fans? Here's what happened (and my answer)...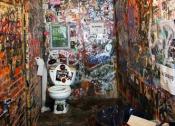 How disgusting, revolting, icky rock bands stay healthy. (Photo: the men's room at iconic CBGBs in NYC, now closed. Note: no door)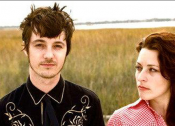 A unique blend of backgrounds and styles, could Shovels & Rope represent the new sound of the Lowcountry? I think so, but feel free to disagree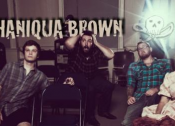 Brand new Gritter Tim Brennan started off with a bang with his entertaining—and thought-provoking—observations on our local music scene. Charleston, where IS the weird?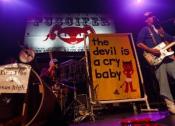 What I'm looking for in live music is a bit of insanity, some weird, some risk, some show... Here's my take on what's lacking in our own local music scene