Stacy Smallwood
BY: Instant Grit
Tibi fans: get pumped. The NYC-based line—known for clean silhouettes, bold colors, and feminine cuts—has released its fall 2013 collection look book, and things are looking good. While the thought...
BY: Chassity Evans
This week you can find me over on the Hampden Clothing website as their very first guest style editor. If you haven't been to Hampden's site in a while then get ready to be blown...
BY: Chassity Evans
Charleston's King Street darling, Hampden Clothing, just got an inspiring office remodel. And I stopped in for a visit with Hampden Clothing's owner, Stacy Smallwood, just after she...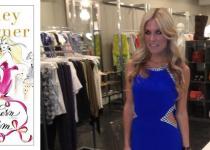 BY: Andrew C. Petersen
For weeks now I have been hearing a fabulous rumor that the gorgeous Tinsley Mortimer was coming to our quaint city to sign copies of her new book, Southern Charm. Gossip, you...
BY: Ayoka Lucas
Very few would argue that Hampden Clothing has their finger on the pulse of the fashion universe. The latest manifestation of this delivered designers Marcus Wainwright and...