spoleto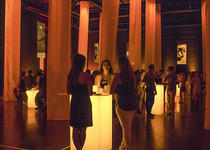 BY: Hooper Schultz
The Spoleto SCENE's Shakedown, a party for 20- and 30-somethings to kick off the Spoleto Festival season, was a huge success.
BY: Rory Gruler
Cinco de Mayo hit on a Monday, Southern Charm finally ended (we think?) the weather is finally starting to feel like it should, and Mother's Day is right around the corner. Your weekly roundup.
BY: Rory Gruler
The week's most striking headlines? A truck takes a tumble from the Ravenel Bridge, another pup-related tragedy hits the Lowcountry, and a Virginian duo gets busted in the buff. This and more here!
BY: Rory Gruler
What happened this week? Well, Band of Horses charged the Kimmel stage, the Spoleto poster was revealed, a fire blazed through West Ashley apartments, and Kathie Lee & Hoda chatted up... everyone
BY: Rory Gruler
That's a wrap on CFW! Now onto Spoleto... Locals tweet up about marriage equality, a wreck on the Ravenel turns out to include Chef Bob Carter, and Joe Biden just arrived! (along with bad traffic)
BY: Stephanie Hunt
Finally the sun is out, and last night—as it slipped behind the Dock Street Theatre—we celebrated the golden hour with the Lowcountry's best poetry reader, reading her own work