Shrink Think
BY: John F. Abess
Dear Fellow Grit Readers and Bloggers, It is with great pride that, though much weakened by the experience of the entire process, I am able to announce the accomplishment...
BY: John F. Abess
Friday was the 70th anniversary of D-day. ETV-World televised a live presentation from Swordfish Beach in Normandy of the D-day Anniversary commemorating 6 June, 1944. The commemoration was...
BY: John F. Abess
We know the cost of gold, other precious metals, and stocks we own. Indeed, with the internet, we can track the cost of those items as they vary by each and every second. Day traders may spend entire...
BY: John F. Abess
Parents know how difficult it is to have your children be seen and not heard. Well now—in Belgium, at least—it is possible to have them neither seen nor heard. How, you ask? You can legally...
BY: John F. Abess
Who can doubt this is a special time of the year—Christmas and the New Year are soon making their appearance. I remember the excitement as a youngster thinking "Christmas is coming!" And now, many...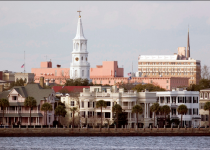 BY: John F. Abess
Great Homes of Charleston Do you know of any city or state in the USA that actually uses a word that has no meaning to outsiders? Surely there are others. After all, the South as...
BY: John F. Abess
Here was the view from Colonial Lake last night. While waiting for the moon, I watched and listened to a black man throw his cast net. I recalled doing that myself countless times—alone,...
BY: Instant Grit
It's the weekend! And a warm, sunny one at that. It's time to forget about work, remember the sunscreen, and unwind. But first, this week's blog of the week, Dr. Abess' suggestion...
BY: John F. Abess
As a psychiatrist, it is my honor and privilege to have the opportunity to practice empathy daily. In the setting of a psychiatric consultative sessions, people share their most revealing secrets,...
BY: Instant Grit
A few weeks ago, Dr. John Abess—a Grit blogger—published this Open Letter to SC Senators Graham & Scott. In it, he requested clarification on the larger-than-typical ammunition purchase by the...
BY: John F. Abess
Have you ever thought about mime? Maybe not—after all, how real, pertinent, or relevant are those who engage in it? Often, mimes are sidewalk entertainment we stroll past, smirk at, maybe toss a few...
BY: John F. Abess
Dear Senators Graham and Scott: I'll make this short. The Department of Homeland Security is frightening me. It is purchasing outrageous amounts of ammunition (1.6 billion rounds) and almost 3...
BY: John F. Abess
We've said it before, and we'll say it again... The best part about editing Grit is we never know what we'll get to read from day to the next. We get lots of creative surprises, and Dr. Abess'...
BY: John F. Abess
There's been much in the news recently about guns and gun violence. By now, all the viewpoints, arguments, and rhetoric are out there for all to consider—moms, politicians, celebs, they've all...
BY: John F. Abess
Last week, Tim Brennan authored an engaging article expressing his anguish at an all-too-frequent occurrence: suicide. He focused mostly on the prevalence of this in the musician culture, and like...
BY: John F. Abess
It's true, we're a celeb-obsessed culture. Remember when Ryan Reynolds and Blake Lively got married here? That blog is still the top-viewed Grit post of all time. Why is...
BY: John F. Abess
I was watching Good Morning America recently, and they were talking about how they are going to do a special interview with "shocking" new detailed information on a very mainstream, much-talked...
BY: John F. Abess
Recently, a writer asked me if I could help her understand what is keeping her from completing a book. She didn't understand why, after all the time and work she'd invested in the project, she was...
BY: John F. Abess
I am going to regret writing this article. My wife has strongly advised against it. I'm pretty certain it will get me fired from blogging on Charleston Grit. Yet, something within...
BY: John F. Abess
Half of all marriages fail1. Put another way, half of all people anticipating the most satisfying, gratifying state imaginable end up watching it go up in smoke. Indeed, failed marriages may be...