Shovels & Rope
BY: Instant Grit
This week, Hunter Gardner gave us three reasons why we should all be listening to local band Shovels and Rope's new albumn, Swimmin Time. We think that these reasons have merit, so here again,...
BY: Rory Gruler
BY: Instant Grit
Associated Press Some spirited congrats are in order for Charleston's much-loved musical duo Shovels & Rope. Suffice to say that the husband-and-wife act—consisting of Cary Ann...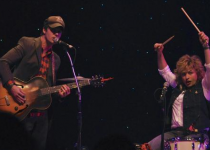 BY: Devin Grant
We weren't among the lucky ones actually at the Charleston Music Hall last Saturday night, so Devin's Shovels & Rope review gave us some mixed emotions. On the one hand, we were pissed—...
BY: Devin Grant
Given that my blog deals mainly with music, it probably comes as no surprise that I'm pretty music obsessed. It isn't really the act of listening to a record, CD, or MP3 file that really does it for...
BY: Rory Gruler
BY: Instant Grit
Charleston's own Cary Ann Hearst and Michael Trent—aka Shovels & Rope—rocked the stage last night on CBS's Late Show with David Letterman. The Johns Island husband-and-wife pair performed "...
BY: Rory Gruler
BY: Rory Gruler
BY: Tim Brennan
Well good day, Charleston! It's been about a month since my last post, which, apparently was read by a lot of people. In order for a blog to be successful, a blogger must capitalize on the...
BY: Tim Brennan
In my first Grit post, I challenged you to tell me which local bands are worth checking out. (I received a couple of suggestions that excite me, though I'm still open to more.) That blog,...