Shovels & Rope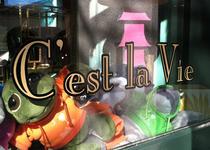 BY: Emily Haney
Music always takes me to the most magical places. This time, it brought me to a quaint Parisian-influenced boutique on North Market Street.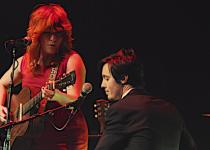 BY: Devin Grant
As their star continues to rise in the world of Americana music, local self-described "sloppy tonk" duo Shovels & Rope returned to their home base for a beautiful and rowdy show at the PAC.
BY: Instant Grit
In this week's Blog of the Week, Hunter Gardner gives us three reasons we should all be listening to local band Shovels and Rope.
BY: Rory Gruler
The week's most striking headlines? A truck takes a tumble from the Ravenel Bridge, another pup-related tragedy hits the Lowcountry, and a Virginian duo gets busted in the buff. This and more here!
BY: Instant Grit
Heard the news? Charleston's own Shovels & Rope scored an impressive batch of nominations yesterday from the Americana Music Association. Get the scoop—and learn more about the duo—here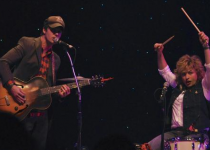 BY: Devin Grant
If you missed the Shovels & Rope show last Saturday, this is your must-read review. Like us, you'll make sure you get tickets next time...
BY: Devin Grant
The duo made a triumphant return to the Holy City Saturday with a sold-out show at the Charleston Music Hall. Didn't get a ticket? No worries! Actually... Yeeeaah, you really missed out. Recap HERE
BY: Rory Gruler
Well we've hit some roadblocks this week… Seriously. Get up to speed on the traffic trouble and bus strike situation, then recover with some buzz about Shovels & Rope, Dellz Deli, and a soup spitter
BY: Instant Grit
Charleston's own Cary Ann Hearst and Michael Trent—aka Shovels & Rope—rocked the stage last night on CBS's Late Show with David Letterman, performing their single "Birmingham." Watch it here
BY: Rory Gruler
Bill Murray spotted at Rutledge Cab, condoms on King, Shovels & Rope rock Letterman, big-time brouhaha at Towne Center, G. Love says it's ON... And the wedding planner you probably shouldn't use
BY: Rory Gruler
The city's abuzz about the royal fetus, one of our own moves on for another adventure (we'll miss you, ACP!), people party till they puke?, things get real today as we remember Pearl Harbor, and more
BY: Tim Brennan
Adding childcare rooms to bars, drug insanity, whether I'm the creepy old guy at the end of the bar, YES you can buy me a beer, and a dozen other sleep-deprived musings
BY: Tim Brennan
A unique blend of backgrounds and styles, could Shovels & Rope represent the new sound of the Lowcountry? I think so, but feel free to disagree