About
I'm your Grit gal and #CHS twitter stalker. Think I should follow you on twitter? Email me! rory@charlestonmag.com
Personal Website
Rory Gruler's Blog Posts
Posted:
Aug 25 2014 - 2:01pm
Someone on @charlestongrit posted that @ShepRose could be the next David Sedaris. I think I need a nap now. #chs— mat catastrophe (@...
Posted:
Aug 12 2014 - 2:32pm
"No matter what people tell you, words and ideas can change the world." Robin Williams. @cmagazine pic.twitter.com/cYMZGA8S0c — RebekahJacob Gallery...
Posted:
Aug 4 2014 - 10:43am
Life or death?! Can you believe that multiple people in LA called 911 for Facebook being down? http://t.co/iOXpt6fjcL— Ashley T Caldwell (@...
Posted:
Jul 22 2014 - 11:07am
Have you seen this man? Suspect named in downtown Charleston weekend stabbing http://t.co/T7d1DLxFlQ #chsnews pic.twitter.com/DHkssq3SZr — Philip...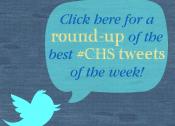 Posted:
Jul 14 2014 - 12:21pm
It's official. Let's get started. #RavenelForSenate pic.twitter.com/nMIgy5kqX4— Thomas Ravenel (@Thomasravenel) July 14, 2014 Frmr SC...
Posted:
Jul 7 2014 - 12:05pm
"@MariaGPosadas: Sunday nights are #Reckless nights!!!" You're damn right!!! — Adam Rodriguez (@_Adam_Rodriguez) July 7, 2014 For the record, my sex...
Posted:
Jun 23 2014 - 10:56am
I don't get it. To say that Bradley isn't one of our best players, based on 2 games, is complete and utter bullshit. Get off the #HateWagon....
Posted:
Jun 16 2014 - 12:16pm
It's all happening #USMNT #NationalAnthem #WorldCup GOAL!! http://t.co/Z6bpHyjZ6m— The Alley Charleston (@TheAlleyChas) June 16, 2014 I...
Posted:
Jun 9 2014 - 12:34pm
College of Charleston will go smoke-free starting July 1. By @dianeknich: http://t.co/9iFOML2UDi #cofc pic.twitter.com/duiWmM3U3g — Post &...
Posted:
Jun 2 2014 - 11:34am
City Paper founding editor Stephanie Barna (@CPEATS) makes her exit after 17 years: http://t.co/V7vkNA1zBB— Paul Bowers (@CCPNews) June 2, 2014...