restaurants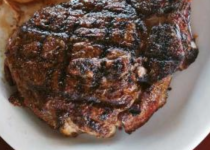 BY: Ann Kaufman
Top left: the blackened steak tips appetizer on a bed of fried onions; top right: the cowboy cut steak weighs in at a hefty 18 ounces but costs a reasonable $24.99 A wise sage once told me that...
BY: Holly Herrick
WIlliamsburgcc.com I've had the happy occasion to spend a fair amount of time in Williamsburg, Virginia in recent months for book signings and to visit a very special someone....
BY: Claire O'Bryan
Last weekend my husband and I traveled to Highlands, North Carolina, to get some fall weather in and eat/drink/lazy our way through the weekend. We decided to hit up one of the best and most...
BY: Holly Herrick
After years of planning and waiting with anticipation, the 2012 PGA Championship has landed on Kiawah, one of the loveliest barrier islands in greater Charleston and home to one of the most...
BY: Molly Hutter
Check this out: If you haven't heard, Peninsula Grill's executive chef Robert Carter opened his all-new Carter's Kitchen Thursday. It's located in the Inn at I'On (formerly...