Photography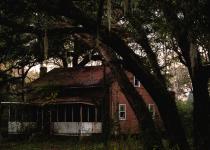 BY: Mac Kilduff
A short photographic look at the run-down and abandoned houses around the Charleston area with little notes of fondness from a Philadelphia native.
BY: Joan Perry
On your marks, get set, GO! The Cooper River Bridge 10K Run/Walk was a success, but in case you missed it, here are some pictures from the heart of the action.
BY: Ayoka Lucas
Meet June Canedo. A former College of Charleston graduate turned world traveler, artist, fashionista, writer and now, most importantly, analog photographer.
BY: Rebekah Jacob
In addition to starting those French Quarter Art Walks we all love to roam, the matriarch of the local gallery scene—Nina Liu—has helped turn Charleston into a forefront art Mecca of our region
BY: Cortney Bishop
Iconic 80s photography, like this one from Lyle Owerko's "Boombox Project," brings a modern (or slightly retro?) spin to interiors
BY: Rebekah Jacob
The past two posts have prepped you for it—for buying art on your own. Use this final installment as an easy reference when you go to purchase (like how to tell between a vintage and a period piece)
BY: Rebekah Jacob
In Part One we covered the basics—how to wrap your head around photo collecting and some tricks of the trade. Now it's time to get going by utilizing the host of resources available (and listed here!)
BY: Rebekah Jacob
Bottom line? Anyone can buy art. And adding photography to your collection is fun—here's a few tricks of the trade, including some good warnings (like using caution with emerging talents)
BY: Jenny Keenan
Fill up your heart and walls with simple kids' artwork and large-scale pictures