North Charleston Performing Arts Center
BY: Hunter Gardner
If you have turned on the Food Network in the past decade, then you have seen Alton Brown. Long before anyone was searching out diners and dives or cooking barefoot, Alton was a linchpin of...
BY: Devin Grant
A couple months back, I had the opportunity to see the Broadway musical "Jersey Boys" as part of the North Charleston Performing Arts Center's Best of Broadway series. Going in, I was...
BY: Devin Grant
The first time I saw Cheap Trick, I had a classic case of mixed feelings. On the one hand there was the actual performance. The band was opening for Stone Temple Pilots at the North Charleston...
BY: Devin Grant
Far too often, when I hear the synopsis of a Broadway musical, I'm underwhelmed. Then I go and see said musical, and it turns out to be great. Take Wicked for example. I'd heard it was good, but a...
BY: Devin Grant
There are some venues in the Lowcountry that I truly love when it comes to seeing live music. At the top of my list sits the North Charleston Performing Arts Center. Since it opened as the...
BY: Devin Grant
I've found that when it come to some bands there are no fair weather fans. You're either on board or you can't stand them. Such is the case with Steely Dan. From 1972 to 1980, Walter Becker and...
BY: Devin Grant
When it was announced that Cyndi Lauper would be playing the North Charleston Performing Arts Center, I was definitely interested in going. When it was announced that, in honor of its 30th...
BY: Instant Grit
And the Blog of the Week is... Steve Martin & Bluegrass: A Wild & Crazy Show by Devin Grant, where he gave us lines like: "I like to think of my banjos as my children, which...
BY: Devin Grant
"Ladies and gentlemen, all my life I've dreamed of playing Charleston, South Carolina. Tonight, I'm one step closer to that goal." That's how Steve Martin began the show this past Monday...
BY: Devin Grant
I had a chance to see a couple of shows this week that had as many similarities as they had differences. First, this past Sunday, the North Charleston Performing Arts Center got rocked...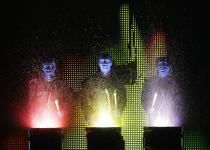 BY: Devin Grant
I have two sons, ages three and six. Since the day I found out I would be a father, there are certain scenarios I've played out in my mind. Some are situations every parent probably daydreams about:...
BY: Devin Grant
Just about everyone has that one band that they really like, but keep secret from their friends and family, fearing ridicule. It might be the tattooed biker with a penchant for Enya, or a...
BY: Devin Grant
More than a decade ago, I remember standing in line at the Palmetto Grande movie theater in Mount Pleasant, waiting to buy popcorn before going to see whatever movie I was reviewing that week. As I...
BY: Devin Grant
When discussing the merits of Southern rock and roll, the talk almost inevitably comes back to the holy trinity of that genre; Lynyrd Skynyrd, ZZ Top, and The Allman Brothers Band. Yeah, I know, go...
BY: Devin Grant
I was never a metal music fan in high school. That fact takes on extra significance when you know that I graduated from Wando High in 1988, right in the thick of the 80s metal craze. No, while a lot...
BY: Devin Grant
Ben Folds did a drop for me. I know that totally sounds like a drug reference, but in reality it's radio lingo. Back in the mid-90's, when Folds' band, Ben Folds Five, was at it's creative zenith (...
BY: Devin Grant
One of my earliest musical memories that involved seeking out music on my own involves Lindsey Buckingham. At the age of seven I inherited a clunky little clock radio from my parents, the...
BY: Devin Grant
If you've followed my blog for any amount of time, you might have noticed that I often headline my entries with song titles. Call it cheesy, call it cliché, but I try to make the title tie in with...