Nikki Haley
BY: Stephanie Hunt
Snubbing a poet and beautiful verse is one thing. Snubbing leadership, history, and the way forward is another.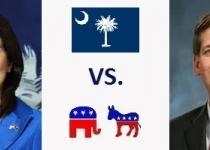 BY: Jeremy McLellan
If you're a Republican, you didn't vote for Nikki Haley to be your governor. You voted for her to be the governor of everyone else.
BY: Rory Gruler
Great whites and a humpback duke it out off the coast, onward with I-526 (Are you glad? Pissed?), Santas booze it up, a racy parade float heats up Mt. P, and more
BY: Rory Gruler
Our tax returns were hacked and Haley's getting defensive; thoughts, prayers, and reports about Sandy; windy weather's been causing some issues; and HAPPY HALLOWEEN!
BY: Rory Gruler
Burger Babies goes bust, National Tequila Day, blistering f&*%ing heat, wild coyotes stalking the 'burbs, and much more in our social mediasphere
BY: Instant Grit
Grit bloggers Rebekah Jacob and Stephanie Hunt schooled us in just what it means to support something worthwhile, like Charleston's arts community
BY: Stephanie Hunt
Haley's veto was stomped. Guess we showed her....or will we? Let's not let our local arts community die by our neglect
BY: E. Louise
I may have found the true Palmetto State prize in the Nikki Haley beat-down heard (and seen) 'round the world, and it didn't fall out of the governor's paper mache face