Music Farm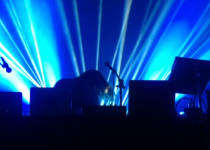 BY: Alexandra Dunlop
The place was packed last Thursday night when the Pretty Lights Music Keepin' It Crew Tour came to the Music Farm, and PLM events typically bring the most interesting of characters out of...
BY: Rory Gruler
BY: Tim Brennan
All Events When I asked for submissions to this contest, I definitely had these guys in mind. A rising modern rock band with a big sound and big vision. Their videos for early demos showed a...
BY: Rory Gruler
Follow my blog with Bloglovin
BY: Tim Brennan
I can predict the winner of just about every Battle Of The Bands. That's right. I'm telling you that I am that good. Seriously. Just meet me outside any Battle of the Bands before it begins...
BY: Devin Grant
I listen to my share of punk rock music, but I was never really what you'd call a connoisseur of the genre. I was too young to fully appreciate the rawness of the musical style when it was at its...
BY: Tim Brennan
It's winter, so there are tree-lighting ceremonies to attend, eggnog-making recipes to prepare, and Christmas parties to plan. But before we get to the usual holiday traditions, like loading up the...
BY: Tim Brennan
Friday night will be like St. Patrick's Day for me. That's the night Flogging Molly is bringing their Irish punk music to the Music Farm. I love punk music. I love Irish music. The...
BY: Hunter Boone
First off, I am a huge Passion Pit fan. I still remember when "Sleepy Head," Passion Pit's first single, was reblogged over and over on my Tumblr dashboard, before the...
BY: Devin Grant
Ben Folds did a drop for me. I know that totally sounds like a drug reference, but in reality it's radio lingo. Back in the mid-90's, when Folds' band, Ben Folds Five, was at it's creative zenith (...
BY: Claire O'Bryan
It's no secret that in Charleston, we're all about LOCAL. We're proud of our city, our restaurants, our farms, our people. We've earned a lot of braggin' rights over the last few hundred years, and...
BY: Tim Brennan
The other night, I went to the Music Farm to see some bands that I had never seen before. Members of two of the bands on the bill are Facebook friends of mine, and I had seen them promoting the heck...