local music
BY: Devin Grant
It has always amazed me how quickly folks in this town will pitch in to help when someone is in need, even if that someone is a complete stranger. I don't think I've ever actually met Lisa Jungermann...
BY: Devin Grant
Okay, so first it must be said that the band Slow Runner has one of the more amusing band bios out there. No, I'm serious. Go right now to slowrunnermusic.com and read it. I'll wait. ...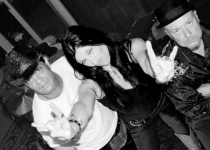 BY: Devin Grant
I met Skye Paige a few years back when we were both attending a special in-studio performance by Gov't Mule at Charleston Sound. I still remember that first meeting because of the way she carried...
BY: Devin Grant
I'm a sucker for a good movie quote. You know, like "I'll be back," "Frankly my dear, I don't give a damn," "You talkin' to me?" or "May the Force be with you." In the "Lethal Weapon" action film...
BY: Devin Grant
I was never majorly into heavy metal music while growing up. Sure, there were a few bands that caught my ear, but for the most part I shunned acts such as Judas Priest, Iron Maiden, and Black Sabbath...
BY: Tim Brennan
Charleston power pop foursome, A Fragile Tomorrow, has all the goods to make it well beyond the Lowcountry's nebulous borders. Their fourth CD, Be Nice Be Careful, is set for release January 8 ...
BY: Tim Brennan
Tyler Boone has a plan to make a name for himself in the Charleston music scene with the release of his second EP, Changing Pace, at the Midtown this Thursday. The plan seems to be, well, to...
BY: Devin Grant
While I've always been a fan of the basic rock-and-roll set-up of drums, bass, a guitar or two, and a singer, I also love it when someone finds a way to rock out in a unique way. Bands such as Ben...
BY: Tim Brennan
The greatest guitar chord I've ever heard is going to be played in the Charleston area soon. I'm not sure when or where yet, but I plan to be there when it happens. Will you? You're going to...
BY: Tim Brennan
Have you seen the bathrooms at most rock clubs? Or the ones at your typical highway rest stops? Do they make you want to hold it until you get home? (Like this one from the now-closed, but iconic...