LESSONS
BY: Nate Anderson
I was in my mother's kitchen a few days ago deep in the heart of Mississippi on a trip home. As is tradition, I help her prepare dinner and clean up afterwards until she can't take how awful my pan...
BY: Renae Brabham
It was the day before my birthday. I was in the grocery store checkout line with a box of Epsom salts. Repetitive trips up three flights of stairs daily had taken its toll this week. I was...
BY: Hunter Gardner
I want to be a comedy writer more than anything in the world right now. Writer's room. Sitcom or sketch show. Chinese food. Coffee. You know, you've seen 30 Rock. Comedy Central More...
BY: Evans Craddock
I went to the grocery store after work the other day and spent a few minutes in the laundry aisle. One minute I was searching for detergent and the next minute I was a part of one of the...
BY: Joan Perry
Thanksgiving thoughts are even more meaningful in a hospital. A roll of paper was laid out with colored markers inviting people to write their thoughts for Thanksgiving. Every time I walked...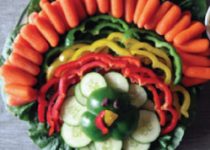 BY: Erica Rodefer W...
Here's a little reminder for all of the well meaning folks hosting a big, old traditional Southern Thanksgiving dinner at their houses later this week: Vegetarians don't eat turkey. I...
BY: Ellen McGauley
I had a really enlightening conversation recently about giving. It was just about the simple act of saying, "Here. Here's a few bucks, it seems like you really need it." After all, at last count,...
BY: Tim Brennan
After every good show, I make an effort to be generous and appreciative to the people working the show. If we make a little extra, I try to tip the house sound guy. When the tab comes and I...
BY: Mellissa Sevigny
Since we've spent the last couple of weeks in CT enjoying the cooler weather, I've really gotten excited about making soups again. I haven't been home to experiment with new recipes yet, but I...
BY: Ellen McGauley
You're going to want to get in on this. It's new to Charleston—it's quickly making its way east from L.A.—super different, and I dig it. I started taking a so-called Buti fitness class...