Joan Perry's Blog Posts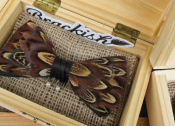 Posted:
Dec 4 2013 - 10:27am
If you have to wear a tie why not wear a cool one?! Check out these bow ties made from real bird feathers. The company is called ...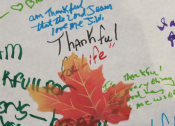 Posted:
Nov 26 2013 - 12:43pm
Thanksgiving thoughts are even more meaningful in a hospital. A roll of paper was laid out with colored markers inviting people to write...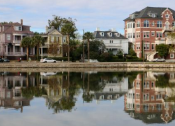 Posted:
Nov 22 2013 - 10:13am
I did a series like this last year, but it is so pretty when the water is still it bears repeating. Shame on me for missing the Party...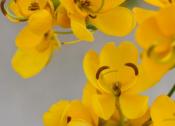 Posted:
Nov 18 2013 - 5:39pm
Nothing dull and drab about fall in Charleston. These yellow blossoms brighten up the streets on the peninsula, cheering up my walk this...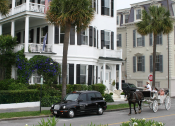 Posted:
Nov 15 2013 - 9:50am
Chalmers St. Some of my readers may be recent enough not to know that I used to hunt the elusive black cabs of Charleston and take...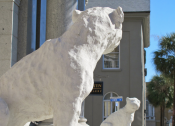 Posted:
Oct 29 2013 - 9:32am
BLFs Forever! That would be Best Leopard Friends Forever. In the summer of 2011 I wrote this entry after vandals had...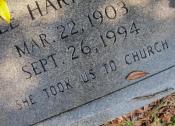 Posted:
Oct 24 2013 - 9:22am
She was the sunshine of our home She took us to church She looked well to the ways of her household ...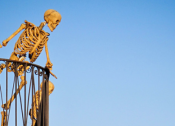 Posted:
Oct 7 2013 - 10:11am
Here are a few fun Halloween shots from my walk yesterday morning. These folks should get a break on their property taxes for all the...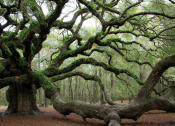 Posted:
Oct 2 2013 - 2:23pm
Harriet McLoed of Reuters wrote in her article "South Carolinians raising millions to protect centuries-old Angel Oak": "A group trying to preserve...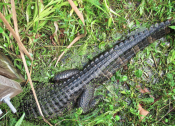 Posted:
Sep 24 2013 - 9:50am
Picnic! I love picnics, and I talked my son into joining me for a walk through Magnolia Plantation's Swamp Walk this morning. We enjoyed a...