Joan Perry's Blog Posts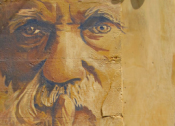 A hidden mural in Avondale is an uncovered gem for most Charlestonians.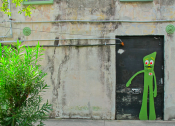 Recognize this place? Joan Perry stumbled onto Gumby on the corner of Monatgu and Pitt Streets in all of his glory this weekend for her Charleston Daily Photo.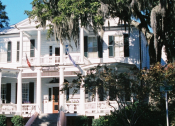 Take a quick drive with photo genius Joan Perry down to our neighbors and see the beauty, taste the treats, and hear the music that lies just a few miles away.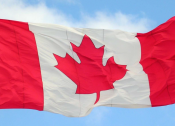 No matter where you live, getting together with your family can rejuvenate the soul. Here, blogger Joan Perry takes an impromptu trip to America's Hat to be with her family.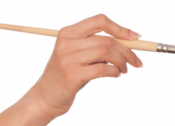 There's a mystery on Queen Street, and the clues are as big as a building. Although there's quite a bit of art on our city's walls as of late, this one seems to be a little more under the radar.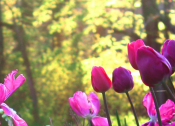 As the weather warms, Charleston's gardens are springing to life, and with it they're bringing the beautiful colors and fragrances that people travel miles to come experience.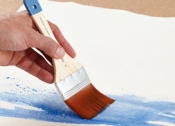 With all the art going up around town in preparation for Spoleto, it's easy to overlook some creations that have been right under our noses the entire time. Here's a little gem from Meeting Street.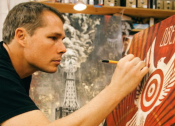 Our city is becoming even more colorful as local, turned internationally successful artist get's the go-ahead to display his art on some of Charleston's most well known buildings. Have you seen it?
You've heard talk of the new French restaurant hidden in the heart of downtown, but here's a chance to really see what Chez Nous, Bin 152's little brother, is really doing over there on Payne Street.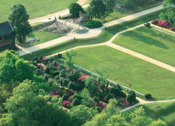 Blogger Joan Perry and friends see the best Charleston has to offer to all the couples getting married here. As the number two destination for weddings in the country, the event was top notch.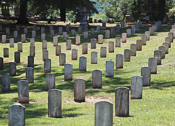 The graves of the fallen should always be respected. Here, the change in your pockets can be seen as an act of respect on the headstones of those that have gone before us.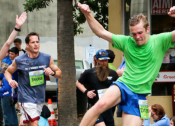 On your marks, get set, GO! The Cooper River Bridge 10K Run/Walk was a success, but in case you missed it, here are some pictures from the heart of the action.
Thanks to the creative folks of Charleston, I've got one of the finest collections of sidewalk art out there. Here are 7 pics—offering wise words on love, daydreams, and a simple yet powerful hello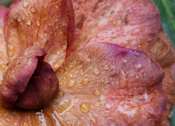 During a New Year's Day walk through Magnolia Plantation's camellia garden, I found myself pointing the camera at my feet as much as the sky. Check out the beauty I spotted while looking down...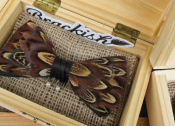 If Brackish Bow Ties aren't on your radar, tune in! These locally made feather ties are super cool and super unique. Here's a look, plus where to get them this weekend...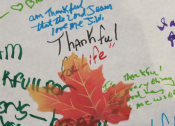 Your job? Music? Your heart? A brand new baby girl? Life? Here's what patients, nurses, doctors, and visitors at Bon Secours St. Francis Hospital in West Ashley had to say on the subject...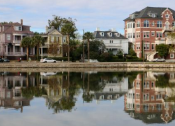 You're familiar with Colonial Lake, sure—but here's a gorgeous look at it you likely haven't seen...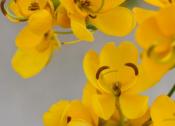 Golden leaves and an abundance of yellow blooms are out in full force across the peninsula. Take a stroll through the pretty autumn petals here...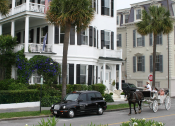 You may or may not know that I used to hunt the elusive black cabs of Charleston. Seeing the London transplants in our Lowcountry setting tickles me to know end. Read on to see what I mean...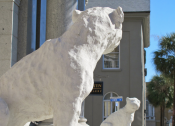 After vandals destroyed one of the Peoples Building's leopard statues in 2011, one was left lonely for more than two years. The other day, though, I drove past and saw a second leopard! Here she is..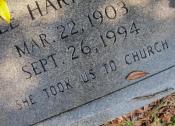 Take a look at this collection of epitaphs to see how five locals have been memorialized. What do you want YOUR tombstone to read?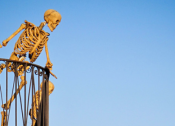 24 days until Halloween, peoples! From balcony-chillin' skeletons and South of Broad mummies to concrete graffiti and a house-topping witches hat—here's a roundup of downtown's best holiday décor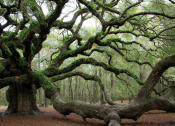 Nearly $700,000 has been raised toward preserving the centuries-old beaut—here's the story behind why she needs saving, plus how you can help protect the long-limbed gal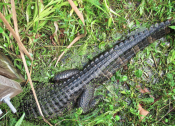 I think he figured if he couldn't see us, we couldn't see him? Meet the shy, but handsome gator I happened across at Magnolia Plantation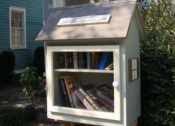 Have you seen it? Here's the mission behind the baby book collection, plus where you can find it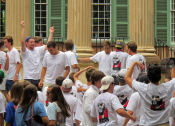 Did anyone out and about downtown on Saturday hear roars of cheering, clapping, and revving motorcycle engines? Here's a look at what was going down at the Cistern (Hint: The frat stars to the left..)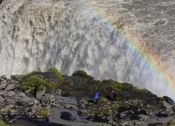 Joan just returned from a trip to Iceland and has some GORGEOUS pics to share. These should help you ease back into the work week...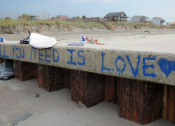 A morning glimpse at Folly Beach—the ocean worshippers, the wall of love, the shell-soaked shoes... Drink it in, Charleston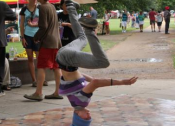 There is nothing like a good street dancing group, is there? Action photos from the show I caught last Saturday...
Georgia lays claim as nation's "peach state," but that honor may hold true in title only. More on that, plus juicy photos from the Farmer's Market....
How's this for a Mother's Day win? Click here for the full photo of our legendary landmark all dressed up for Mother's Day...
Have you heard of ArtFields, an "epic Southern artfest" that's smack in the middle of a farming community just a couple hours up the road? I loved it, and will be back next year. Here are some pics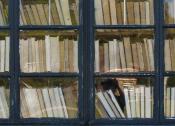 A peek into the dusty old pages at Robert Sarco's Antique Store in Hollywood, South Carolina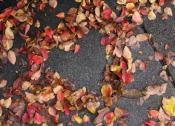 It was this simple, locally charming post that tugged at our heart strings this week... And yours, too—it was amazingly popular. Plus, now you really CAN vote on your favorite! There's a link inside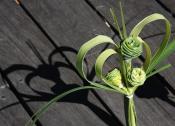 Ready to fall in love with Charleston all over again? She's wearing her heart on her sleeve all over town, as seen in these 7 powerful images. Vote for your favorite!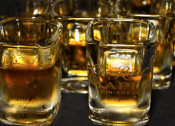 Last week I attended a taste testing party for Crown Royal's new maple-flavored variety. Read on for photos of the event and to see what I thought of the novel spirit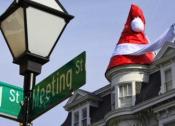 Sure, it's 75 degrees outside (making the weather somewhat frightful), but no matter... nobody does Christmas like we do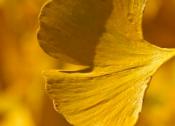 Perhaps the big city runways are taking their neon cues from us? Here's the hot gold hue turning heads outside the Library Society...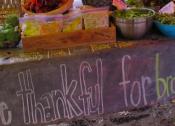 A couple neat pics from Saturday's market, begging this Thanksgiving Week question... Are YOU thankful for broccoli? How about the rest of Charleston's winter bounty?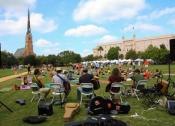 Not your typical downward-facing dog, tree, or child's pose, check out these impressive asanas from Saturday's yoga marathon in Marion Square
It may be a bit longer, but I've learned taking the scenic route to work has a pretty profound perk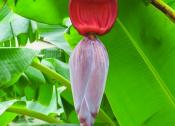 Check out this brilliant banana blossom and a bounty of fruit, spotted on the upper peninsula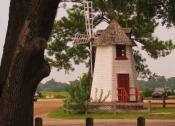 Charleston's only windmill watches over boaters putting in at the Wappoo Cut boat landing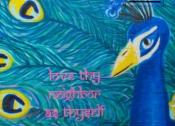 Have you seen the off-the-chain urban murals in Avondale? Check it out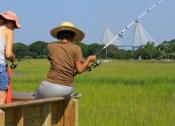 An early-morning glimpse at a pair of lovely pals casting for dinner on the boardwalk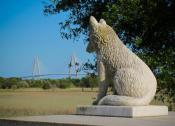 The Post & Courier reported last week a trio of fox sightings on the Charleston peninsula? Rare? It depends on where you look.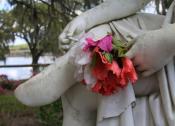 This time of year, you've got to head out of town a little ways and check out all that's abloom in Charleston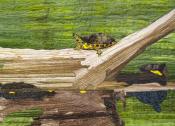 This amazing stitched wall hanging was on display at the Cobblestone Quilters Guild show at Gaillard Auditorium on March 4th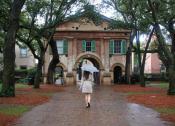 Showers in Charleston? Not so bad...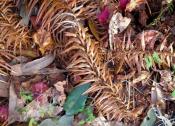 The colors and pattern on the ground in the garden at Mepkin Abbey made for a perfect cool-weather palette