interior design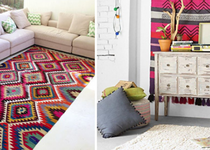 BY: Jesse Vickers
Vibrant textiles are the perfect way to bring a touch of spring indoors.
BY: Cortney Bishop
The collected (as opposed to the decorated) aesthetic is getting hot. Here's how to achieve the look in your home, plus, some stunning inspiration from a favorite artist of mine—Slava Roubanov
BY: Cortney Bishop
On a recent trip to NYC, I stopped into The Rug Company's showroom in the Village and was blown away (think Kelly Wearstler, Vivienne Westwood...). Here's your peek
BY: Cortney Bishop
The queen of interior glamour aces it again with her new fabric collection
BY: Cortney Bishop
Iconic 80s photography, like this one from Lyle Owerko's "Boombox Project," brings a modern (or slightly retro?) spin to interiors
BY: Cortney Bishop
Let's take a quick breather from ultra modern cook spaces to pay homage to fun, funky retro warmth (and the WOW appliances that anchor these rooms)
BY: Cortney Bishop
Patriotism doesn't have to be a seasonal, summertime display. Here are some chic ways to incorporate the Stars and Stripes into your year-round home décor
BY: Cortney Bishop
Every designer has a bucket list. The top to-do on mine is to flank an entire wall in the ever-so-avant-garde Bisazza tile...