Hurricane Isaac
BY: Stephanie Hunt
Amidst the swirling storm clouds and driving rain, this one got right to the heart of our creative spirits. Then again, that's very much Stephanie's specialty. Add in the brilliant poem by local 8th...
BY: E. Louise
"Irene, don't be a dick." That's a Facebook quote from my friend Paige, written this time last year, as Hurricane Irene barrelled toward Florida and she—a resident of Orlando—packed...
BY: Stephanie Hunt
Is it irony or divine comedy that "back to school" always coincides with hurricanes brewing? Just as the kids get squished back into blessed routine, the tropics churn up their unruly...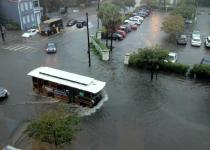 BY: Rory Gruler
BY: Rory Gruler