Humor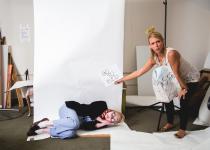 BY: Jessie Parks
From our longtime mayor to our colorful architecture (and locals), it seems that everyone wants a piece of the Holy City. This Halloween, reconsider that Ray Rice costume (dude, you should...
BY: John F. Abess
Dear Fellow Grit Readers and Bloggers, It is with great pride that, though much weakened by the experience of the entire process, I am able to announce the accomplishment...
BY: Renae Brabham
The small signage below the rearview mirror reads, "Objects in mirror may appear closer than they are." WTH? Useless advice for a driver suffering from dyslexic depth perception, now isn't it? ...
BY: Instant Grit
Local comedians Jeremy McLellan and Hunter Gardner are set to produce a monthly comedy showcase ("The Puppy Dog Comedy Show") at Tin Roof in West Ashley to highlight some of the area's...
BY: Hunter Gardner
You guys, junk got straight cray-cray-high-school-prom-after-party this week on Southern Charm. My comedy pal, Sam Hendry joined me to jump into it. Here's what we learned. What Sam Learned:...
BY: Hunter Gardner
What a great follow up episode right, folks? Friends, lovers, a poor understanding of the English language: Episode two really had it all. Thomas Ravenel is out for love, hoping to "...
BY: Rory Gruler
BY: Nate Anderson
Southern Charm, Southern Charm, Southern Charm! It's all that's been on the internet here in Charleston for the past, forever, it seems. All these articles pointing out the shortcomings of the "cast...
BY: Instant Grit
It's coming.Like when George Clooney looked up from his fishing boat in "The Perfect Storm" and saw the horizon wide storm barreling down on him, and he knew there was nothing he could do but prepare...
BY: Nate Anderson
I like music, but I don't go crazy over it. I grew up in a musical family, and after begging my mother to release me from piano and violin lessons because that's not what cool middle school kids did...
BY: Nate Anderson
Seeing how this past week has pretty much been the 4 Horsemen of the Winter Apocalypse, the beach and warmer weather has been on everyone's minds. So, since running outside is clearly not an option,...
BY: Instant Grit
Jim Cantore was at CofC's Cistern last night reporting live on Charleston's surprisingly severe weather when he got an unexpected visitor. An idiot male student, came running at Jim while...
BY: Nate Anderson
I wrote a few months ago about potentially running the Charleston Marathon. It was a spontaneous idea and one which I did not put much thought into. Running a marathon has always been on my bucket...
BY: Instant Grit
The Blog of the Week is... From Calling Cards to Pokes & Posts by Renae Brabham. This got us thinking a little differently about our birthdays, for sure. "I prefer to have birthdays pass...
BY: Nate Anderson
I was in my mother's kitchen a few days ago deep in the heart of Mississippi on a trip home. As is tradition, I help her prepare dinner and clean up afterwards until she can't take how awful my pan...
BY: Rebeccah Connelly
Four Hens & Rooster Last year, I sort of wrote a Thanksgiving post on my personal blog about gratitude. More specifically, it was about the things I am NOT thankful for, some of which...
BY: Nate Anderson
Marathon Shmarathon. Charleston Marathon It wasn't even a week ago that I saw the ad for the Charleston Marathon. I remembered how a friend and I were going to run the Marine...
BY: Instant Grit
The Blog of the Week is... No Need to Shave November? by Nate Anderson. In it, he pointed out that for some, the now renowned No Shave November—a concept circulated to further prostate cancer...
BY: Tim Brennan
Last week Rick Pflueger, a band mate of mine in Rambler 454, got married. Congrats to he and his awesome bride, Jennifer. Sadly, our lead singer and I were in Charleston playing for...
BY: Instant Grit
You don't need to beat FSU. You don't even need to come within 20 or 30 points of them... All you really need is a camera, a live national feed, and two really enthusiastic Clemson fans—one with...