HOT BUTTON
BY: Hunter Gardner
The premiere of Southern Charm is behind us now, jam packed with boyish fun and further proof that white people are bad at making their own alcoholic punch. I sat down with fellow Charleston...
BY: Instant Grit
As if Charleston hadn't had enough of the Southern Charm cast, Bravo has recently released a series of videos showcasing some of the cast member's houses and answers to proposed questions. However,...
BY: Instant Grit
And the Blog of the Week is..........Can Your Man See You Without Makeup by Andrew C. Peterson. In it, he describes the woes and frustrations all young women go through in finally trusting their...
BY: Instant Grit
And the blog of the week is..........C&C Style Club: Venita Aspen. Here, blogger Desmond Kinlaw tells us about Venita Aspen, a young aspiring writer, editor, culinary student, and...
BY: John F. Abess
Parents know how difficult it is to have your children be seen and not heard. Well now—in Belgium, at least—it is possible to have them neither seen nor heard. How, you ask? You can legally...
BY: Instant Grit
Did you hear about the "sting" on the rickshaw driver giving commentary about the passing sights, or, as the ticket read, an "unlicensed tour" to an undercover cop? Did you hear it cost him over $1,...
BY: Renae Brabham
There's no denying that visitors to Charleston embrace ALL that the Holy City has to offer... its grandeur and allure, its antiquity, the arts district, and restaurants with our James Beard...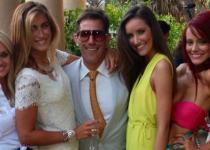 BY: Rory Gruler
Image via Facebook We all have our T-Rav stories. Well here is mine... It was early summer 2007 when I had my first and only interaction with Thomas Ravenel. I was single and...
BY: Instant Grit
It's official: the Charleston-based "reality" show we've all been dreading is hitting TV. Per Bravo, Southern Charm will follow six local singles—Craig Conover,...
BY: Hunter Boone
Drunk History has had an amazing run so far. It was originally a web series on FunnyorDie.com, then was picked up on Comedy Central, had an amazing first season, and was...
BY: Instant Grit
People up North are scoffing at us. Colin Kaepernick, Aaron Rodgers, and the 77,000+ fans who cheered in the stands of Lambeau Field last night—they're laughing hysterically, asking one...
BY: Instant Grit
The Blog of the Week is... Lying: The Booming New Profit Center by Tim Brennan. It's a rather entertaining recognition of just how easy it is these days to get yourself a piece of the spotlight. And...
BY: Tim Brennan
"They can't put anything on the Internet that's not true." —gal in State Farm insurance commercial Actually, don't call it lying. It's fiction. Entertainment. Reality. Comedy. Ethical? Who...
BY: admin
BY: Instant Grit
Huffington Post Listen up, Charleston: this is launching today. At the mayor's office this morning, Water Missions International—together with a number of local organizations (Charleston...
BY: Rory Gruler
BY: Instant Grit
The Blog of the Week is... Say Hello to Soup Season by Mellissa Sevigny. Because wow. Ten (count 'em, 10) insanely delicious looking soup right as the chill sets in? With names like Brazilian Shrimp...
BY: Rory Gruler
BY: Instant Grit
The Blog of the Week is... Jelly Beans & Acne Cream by Evans Craddock. The news that a 12-year-old Florida student committed suicide following aggressive bullying by two classmates was tough to...
BY: Evans Craddock
I spent a good chunk of time one evening last week watching the news and I nearly lost it after hearing about this story. Bullying disgusts me. I remember once when I was in my...