heavyontheveggie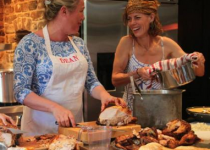 BY: Claire O'Bryan
Have you heard of the Charleston Academy of Domestic Pursuits? If not, you're missing out. I went to my second class with the Deans of the Academy, Charlestonians Lee Manigault and...
BY: Claire O'Bryan
It's been a week since my first "To Juice or Not to Juice" post, and since then, I've tried out different homemade juicing recipes for seven days straight. So here are my thoughts: the good and the...
BY: Claire O'Bryan
I've been so excited to try Stars Grill since it opened well over a month ago. Watching a new restaurant go up in Charleston is so fun, especially when it's a massive place with a rooftop bar....
BY: Claire O'Bryan
After much debate about the pouring rain and freezing cold this Sunday, Ed and I set out to find ourselves some lunch. We drove past some old staples on Folly Road, and ultimately decided to give...
BY: Claire O'Bryan
One of my favorite "fast food" staples, the Black Bean Company, has developed a new dinner menu that is excellent. I'm not saying that lightly. It's completely delicious. Man y'all. This is a good...
BY: Claire O'Bryan
You may have seen my post a couple of weeks ago, What's the Hype with Gluten Free? I don't practice the gluten free diet, but that doesn't mean it's not taking over the world. So what is gluten...
BY: Claire O'Bryan
I've officially got a crush on Chef Rusty. This Saturday I ventured out to Daniel Island's Blackbaud Stadium to cover some of the food happenin's at the Southern Ground Music and Food Festival...
BY: Claire O'Bryan
Last weekend my husband and I traveled to Highlands, North Carolina, to get some fall weather in and eat/drink/lazy our way through the weekend. We decided to hit up one of the best and most...
BY: Claire O'Bryan
When I first started blogging, I contacted fellow Grit blogger Chassity Evans of Look Linger Love for her advice on how to get my blog out there. She was super helpful and encouraging, even...
BY: Claire O'Bryan
So what's my blog all about? Am I vegan? Am I vegetarian? Am I telling you guys that you need to quit eating meat? What, I'm a communist? No no, none of the above... I'm just a good...