heavyontheveggie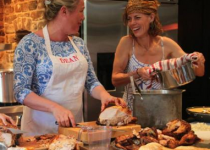 BY: Claire O'Bryan
If you really want to get things done with a powerful soul, have them over for breakfast? True? That lesson and more from my 2nd class with the Charleston Academy of Domestic Pursuits...
BY: Claire O'Bryan
After juicing just about every fruit or veggie out there over the past week, I've made my decision. Here are my thoughts about this new "health" fad (plus a recipe for the Green Juice pictured here!)
BY: Claire O'Bryan
Cured bacon mini BLTs, oysters with spinach, asiago cheese, brandy, and garlic, chicken pot pie... I've got the rundown on Stars (after giving them the requisite time to open up and settle in)
BY: Claire O'Bryan
Okay, looking for an amazing brunch (or just good bread) on James Island? Baguette Magic will knock your socks off, and if you're like me, you'll end up fighting your spouse for "sharing bites"
BY: Claire O'Bryan
Black Bean Co.'s known for their great salads and wraps. But what happens when they decide to throw a new dinner menu in the mix? Healthy eaters, you should flock to them ASAP because it is GOOD
BY: Claire O'Bryan
I wanted to see what the taste difference is between GF and regular fare—here's my take, from table bread all the way to a sweet, sweet creme brulee
BY: Claire O'Bryan
Somehow I was able to score an interview with Chef Rusty, the executive chef for the Zac Brown Band and the Southern Ground Music and Food Festival, and in less than 10 minutes, I was wooed.
BY: Claire O'Bryan
It's never kosher to behave like a big fat baby in public, but in a restaurant? You're playing with fire my friends... Here's what happened on a recent trip to Highlands
BY: Claire O'Bryan
Serving up healthy supper fare can be simple and delicious. I recently invited Grit blogger Chassity Evans and some mutual friends over to show just that. On the menu? Lots of veggies!
BY: Claire O'Bryan
In her first post on Grit, Heavy On the Veggie's Claire O'Bryan shares her foolproof ways to incorporate more fruits and vegetables into your daily eats