Heavy on the Veggie
BY: Claire O'Bryan
After years of teaching classes for their Charleston Academy of Domestic Pursuits, Lee Manigault and Suzanne Pollack's book has finally hit stores. I know you've heard me talk about how fun...
BY: Claire O'Bryan
Looking for something different to do on Valentines Day? Go to the awesome show "Heartbreak Cabaret" downtown (how culturally astute of you), have fun, and raise money for the MUSC Children's...
BY: Claire O'Bryan
Twenty years ago, two Charlotte businessmen placed a bet at Christmas time. Their mission? Simply to see who could raise the most money to buy bicycles for underprivileged children and have a little...
BY: Claire O'Bryan
Have you always wanted to go on a mission or service trip, but weren't sure how you could be useful? This Thursday, November 7, is the perfect opportunity to learn about...
BY: Claire O'Bryan
When Jenan and Bryant McClain opened Puree Organic Café in early 2012, they knew they weren't out to make a fortune. In fact, they knew the opposite would likely be true. But after working in...
BY: Claire O'Bryan
Looking for a run while the weather is great? Come out on September 14 and support head and neck cancer research. This run was started by my co-worker and friend, Carissa Carie in honor and...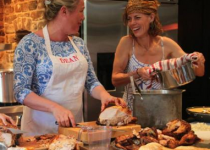 BY: Claire O'Bryan
Have you heard of the Charleston Academy of Domestic Pursuits? If not, you're missing out. I went to my second class with the Deans of the Academy, Charlestonians Lee Manigault and...
BY: Claire O'Bryan
Change.org Oh. Em. GEE. You guys know on HOTV I try not to be negative… unless it's necessary. In the case of a Charleston City Paper article this morning, imma be...
BY: Claire O'Bryan
It's been a week since my first "To Juice or Not to Juice" post, and since then, I've tried out different homemade juicing recipes for seven days straight. So here are my thoughts: the good and the...
BY: Claire O'Bryan
No, I don't mean steroids. Although I'd love to have an even flatter chest and tiny beard… Just kiddin. I've been debating whether or not to jump on the juicing bandwagon, and of course I was...
BY: Claire O'Bryan
I've been so excited to try Stars Grill since it opened well over a month ago. Watching a new restaurant go up in Charleston is so fun, especially when it's a massive place with a rooftop bar....
BY: Claire O'Bryan
After much debate about the pouring rain and freezing cold this Sunday, Ed and I set out to find ourselves some lunch. We drove past some old staples on Folly Road, and ultimately decided to give...
BY: Claire O'Bryan
Monday was a great little day for me. I had an appointment in the morning, got some Christmas shopping done (almost finished, WOO!), headed over to my favorite yoga spot, then popped into what's sure...
BY: Claire O'Bryan
One of my favorite "fast food" staples, the Black Bean Company, has developed a new dinner menu that is excellent. I'm not saying that lightly. It's completely delicious. Man y'all. This is a good...
BY: Claire O'Bryan
You may have seen my post a couple of weeks ago, What's the Hype with Gluten Free? I don't practice the gluten free diet, but that doesn't mean it's not taking over the world. So what is gluten...
BY: Claire O'Bryan
I've officially got a crush on Chef Rusty. This Saturday I ventured out to Daniel Island's Blackbaud Stadium to cover some of the food happenin's at the Southern Ground Music and Food Festival...
BY: Claire O'Bryan
Last weekend my husband and I traveled to Highlands, North Carolina, to get some fall weather in and eat/drink/lazy our way through the weekend. We decided to hit up one of the best and most...
BY: Claire O'Bryan
We're back in the saddle with our Ambrose Farms CSA, and I'm loving having to figure out how to use all these fall and winter vegetables again! I've had massive successes, and some massive fails....
BY: Claire O'Bryan
When I first started blogging, I contacted fellow Grit blogger Chassity Evans of Look Linger Love for her advice on how to get my blog out there. She was super helpful and encouraging, even...
BY: Claire O'Bryan
Are you stuck in a color rut? It's important to get as many colors as we can into our diets every day. Like Skittles so brilliantly stated decades ago, it's time to "taste the rainbow." It's...