Heavy on the Veggie
BY: Claire O'Bryan
Twenty years ago, two Charlotte businessmen placed a bet at Christmas time. Their mission? Simply to see who could raise the most money to buy bicycles for underprivileged children and have a little...
BY: Claire O'Bryan
Have you always wanted to go on a mission or service trip, but weren't sure how you could be useful? This Thursday, November 7, is the perfect opportunity to learn about...
BY: Claire O'Bryan
When Jenan and Bryant McClain opened Puree Organic Café in early 2012, they knew they weren't out to make a fortune. In fact, they knew the opposite would likely be true. But after working in...
BY: Claire O'Bryan
Looking for a run while the weather is great? Come out on September 14 and support head and neck cancer research. This run was started by my co-worker and friend, Carissa Carie in honor and...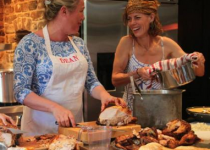 BY: Claire O'Bryan
Have you heard of the Charleston Academy of Domestic Pursuits? If not, you're missing out. I went to my second class with the Deans of the Academy, Charlestonians Lee Manigault and...
BY: Claire O'Bryan
Change.org Oh. Em. GEE. You guys know on HOTV I try not to be negative… unless it's necessary. In the case of a Charleston City Paper article this morning, imma be...
BY: Claire O'Bryan
It's been a week since my first "To Juice or Not to Juice" post, and since then, I've tried out different homemade juicing recipes for seven days straight. So here are my thoughts: the good and the...
BY: Claire O'Bryan
No, I don't mean steroids. Although I'd love to have an even flatter chest and tiny beard… Just kiddin. I've been debating whether or not to jump on the juicing bandwagon, and of course I was...
BY: Claire O'Bryan
I've been so excited to try Stars Grill since it opened well over a month ago. Watching a new restaurant go up in Charleston is so fun, especially when it's a massive place with a rooftop bar....
BY: Claire O'Bryan
After much debate about the pouring rain and freezing cold this Sunday, Ed and I set out to find ourselves some lunch. We drove past some old staples on Folly Road, and ultimately decided to give...