Hampden Clothing
BY: Instant Grit
Have a ticket to next weekend's Wine, Women & Shoes? With vendors like C. Wonder, shoe models including Tara, Chassity, and Natalie, and proceeds supporting a SC nonprofit, you won't want to miss it
BY: Instant Grit
Here they are! Plus, see which pieces Hampden owner and buyer Stacy Smallwood is most pumped about for the fall (and when they'll be in store)
BY: Chassity Evans
If you haven't visited the King Street boutique lately—either in-shop or online—you're missing out on some seriously chic spring wear. Here's what's new, including my 12 favorite looks in store NOW
BY: Chassity Evans
Stacy Smallwood and her Hampden team entertained some of the fashion industry's greatest this month. Here's what went down
BY: Rory Gruler
On trend of late: Nikki's funding cut fail (and her Facebook page), Hope and Union's numbered days, coconut cake, and this morning's Batman horror
BY: Chassity Evans
I dropped by to see Hampden Clothing's latest project, their office makeover. What an inspiring space!
BY: Kristen Fehsenfeld
Bold, bright, and totally awesome, the tribal-inspired jewelry line Holst + Lee is now available at Hampden Clothing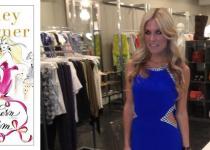 BY: Andrew C. Petersen
Southern girl-turned-Manhattan socialite Tinsley Mortimer came to town yesterday, bringing with her some fiction, style, and Southern Charm
BY: Natalie Mason
Ever since seeing Gwyneth in her "perfect running errands" outfit, I have been convinced I need a pair of white jeans. Well, really, I would like her whole outfit, but lets start with the jeans...
BY: Ayoka Lucas
Bocce ball and doughnuts, runways and real-deal shopping—here's a rundown of the two-day fashion fête