A Fragile Tomorrow
BY: Tim Brennan
Whenever I get invited to a benefit concert, I politely take the information I'm given, and file it away. However, in my own head, all I can think is that the only entity that benefits from a local...
BY: Devin Grant
I'm a sucker for a good movie quote. You know, like "I'll be back," "Frankly my dear, I don't give a damn," "You talkin' to me?" or "May the Force be with you." In the "Lethal Weapon" action film...
BY: Tim Brennan
A few months ago I wrote about the local power pop band A Fragile Tomorrow. That blog ended up being a biography of the first 18 years of lead singer Sean Kelly's life, as told to me during one two-...
BY: Tim Brennan
Charleston power pop foursome, A Fragile Tomorrow, has all the goods to make it well beyond the Lowcountry's nebulous borders. Their fourth CD, Be Nice Be Careful, is set for release January 8 ...
BY: Tim Brennan
Tyler Boone has a plan to make a name for himself in the Charleston music scene with the release of his second EP, Changing Pace, at the Midtown this Thursday. The plan seems to be, well, to...
BY: Tim Brennan
Well good day, Charleston! It's been about a month since my last post, which, apparently was read by a lot of people. In order for a blog to be successful, a blogger must capitalize on the...
BY: Devin Grant
Kudos to Devin for shaking up Facebook with his silence, and shifting all that passion back to something that always lightens the mood—good music. Thanks for introducing us to A Fragile Tomorrow....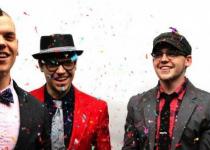 BY: Devin Grant
When I was in first grade, back at Scripps Elementary School in San Diego, I was interested in the same sort of things as most other six-year-olds. Riding bikes, going to the beach, playing with Hot...