Folly Beach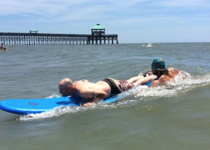 BY: Megan Bryan
Spread the love this Saturday, June 27, at 8:30 am at 3rd Street on Folly Beach.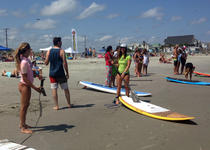 BY: Megan Bryan
Each year for the past 14 years, an all-women's surf competition is held at the Washout on Folly Beach, just outside Charleston, SC. Though it began as a short and longboard competition, the Wahine Classic has grown over the years to include bodyboard and stand-up paddle board (SUP) divisions, and a pro-surf competition with prize money.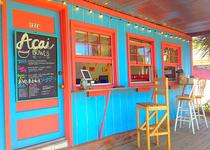 BY: Megan Bryan
Need to fuel up for a day on the water or refuel after a surf session? Chico Feo on Folly Beach has you covered.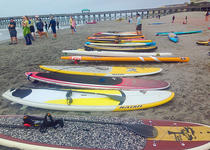 BY: Megan Bryan
The weather report stated "100% chance of Thunderstorms by 10:00 am," but for the brave souls that dared the weather, Sunday morning provided both sun and surf for the Bodhi's Revenge Paddle Race on Folly Beach.
BY: Bates Hagood
Most think that warmer waves and longer days make for better surf. We have to agree.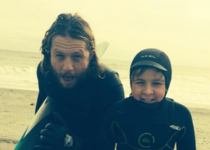 BY: Megan Bryan
After two tours in Iraq as a Marine, and suffering from debilitating PTSD due to the horrors of war, Sgt. Andy Manzi found healing through surfing. The story of his healing is now influencing the way the VA deals with veterans suffering from PTSD.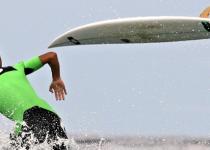 BY: Bates Hagood
An ongoing debate about surfboard leashes at Folly.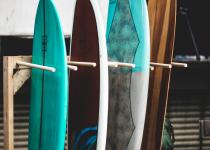 BY: Mac Kilduff
A recap of the first Carolina Surf Film Festival, which brought together local charities and artists for a weekend of fun on James Island.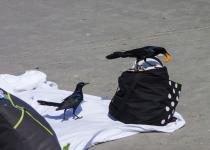 BY: Julie Wheat
Style blogger Julie Wheat has made it her summer mission to survey beach street style in the greater Charleston area. At her first stop, she finds fashion on Folly Beach.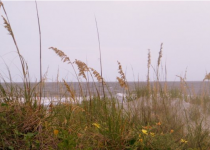 BY: Guest Blogger
Whether you're downtown or on the beach, there's bound to be sand in your house left from Folly, Sullivan's, or IOP. But that's just another one of the things we love about living in the Lowcountry.
BY: Tim Brennan
When done right, getting high can be a very, very good thing. Therapeutic, even. My wife and I did so the other day--from Sullivan's to Seabrook, we were way up there. Here are 15+ pics from the trip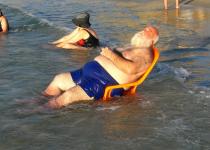 BY: Cullen Murray Kemp
What I learned at Folly this past weekend, thanks to a family of bona fide beach newbies (tube socks and wardrobe malfunctions included)
BY: Ayoka Lucas
Get to know the gal behind Jade Stone Jewelry—a kick-ass collection of one-of-a-kind pieces featuring exotic stones from across the world. Plus? Learn where to buy the baubles in Chas
BY: Claire O'Bryan
Enjoy the near-fall weather that's (surely) on its way while helping spread awareness of oral, head, and neck cancer. Get the scoop on Sept. 14's Cancer's A Beach! 5K (and Taco Boy after-party) here
BY: Joan Perry
A morning glimpse at Folly Beach—the ocean worshippers, the wall of love, the shell-soaked shoes... Drink it in, Charleston
BY: Instant Grit
Sitting in traffic for half the day, sleeping in your car: locals weigh in on their big July 4th fails, plus 2 must-have beach toys and... Yep. We've got red, white, & blue Jell-O shots
BY: Devin Grant
It was awfully hazy last night as my family and I waited on the sand, unsure if we'd be able to catch a glimpse. And then....
BY: Ayoka Lucas
If you weren't at the Faherty Brand pop-up shop Saturday night at The Alley, you missed out. Here's a recap, plus some background on the twin brother designers and their eco-friendly venture
BY: Rory Gruler
QUIZ TIME: Which Holy City singer made it to Billboard's #1? Which moody Brit got stranded on a Lowcountry isle? How old's our state? How much does parking cost on Folly? These answers and more here!
BY: Instant Grit
Here goes... All week, Grit will be counting down to the start of Charleston's golden season: SUMMER! Kicking it off is our quick list of DO'S and DON'TS for living it up this summer. Are you ready?
BY: Joan Perry
How's this for a Mother's Day win? Click here for the full photo of our legendary landmark all dressed up for Mother's Day...
BY: Rory Gruler
It's been a week of bold headlines (a purse w/ $35K was lost; a WWII vet's remains were found) and hype for this weekend—DIG SOUTH, Plantasia, farmers market, etc. Plus, hurray for grilled cheeses!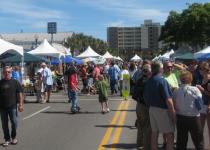 BY: Cullen Murray Kemp
Did you know that you can actually hang out Folly in the winter? Without all the shirtless and sweaty volleyball games, shotgunned beers, and asphalt-seared feet? Yeah, me neither. Not a bad Sunday...
BY: Katie Hurst
Beach season might be coming to a close, but not for runners. Here're some things to consider—wind, dead jellyfish, sand dunes, dogs—to best enjoy a fall jog along your favorite shore
BY: Katie Hurst
It's fall in Charleston; thus the perfect time to run outdoors. So turn off the TV, step off the treadmill, and head outside already! Here are my five favorite running routes around town
BY: Rory Gruler
Locals flock north for NY Fashion Week, The Battery's shooting for a nat'l championship win, and things are sobering up—booze is still banned and now cigs are, too
BY: Rory Gruler
Charleston's where the wild things are: A shark and a hotdog commute down King, feral dogs on James Island, a wheelchair-bound man packing meat, and more...
BY: Instant Grit
So the 60-day alcohol ban on Folly's now in effect. Take our poll and tell us what you think—and read some of the hilarious comments in response (the leash and shark comments are fantastic)
BY: Renae Brabham
Here's the real lesson in human nature from the local saga: when we witness our mortality (even through another's) and do what's right in the moment, that's when we really begin to live
BY: Instant Grit
With the weather warming up, beach goers flocked to Folly this past weekend. Aaand so did this guy...