Devin Grant
BY: Devin Grant
Oh no she didn't! After an Atlanta blog editor took Charleston to task for defending the city's honor, Devin Grant wrote a few words in reply.
BY: Devin Grant
When a group of local musicians decided to pay tribute to that greatest of all white-boy soul groups, Hall & Oates, at the Pour House, the results were sublime.
BY: Instant Grit
Blog of the Week is Devin Grant's interview with Jason Isbell's secret weapon, Sadler Vaden. See some of what he talks about with the videos attached.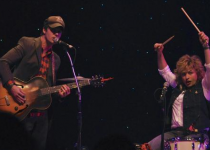 BY: Devin Grant
If you missed the Shovels & Rope show last Saturday, this is your must-read review. Like us, you'll make sure you get tickets next time...
BY: Renae Brabham
A near year-end review of my go-to blog site (Editor's note: We SWEAR we didn't bribe Renae to write this)
BY: Devin Grant
Think politics are a pain in the ass now? This post was proof positive it's a volatile issue no matter the candidates OR supporters, just as it was for these 70s-era six-year-olds
BY: Devin Grant
To get to this music writer's lyrical roots, you gotta go back... way back, to Star Wars, Ted Nugent, and a decade's worth of stolen copies of Rolling Stone.