Devin Grant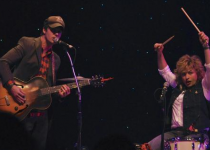 BY: Devin Grant
We weren't among the lucky ones actually at the Charleston Music Hall last Saturday night, so Devin's Shovels & Rope review gave us some mixed emotions. On the one hand, we were pissed—...
BY: Renae Brabham
I am telling you that I have truly enjoyed the Grit world this year. I wish all of Charleston knew what they are missing out on by not visiting daily. It is an amazing storefront window into the...
BY: Devin Grant
Kudos to Devin for shaking up Facebook with his silence, and shifting all that passion back to something that always lightens the mood—good music. Thanks for introducing us to A Fragile Tomorrow....
BY: Devin Grant
I can trace my interest in writing about music back to a single moment. I was messing around in my father's home office and I came across a magazine. "Oh really," you're probably saying, "did it...