Cooper River Bridge Run
BY: Rory Gruler
BY: Joan Perry
Cooper River Bridge Run 2014 Cooper River Bridge Run, King St., Charleston, S.C. I camped out at the run turn at King and Wentworth Street Saturday morning and tried...
BY: Nate Anderson
When I was in college, my friends and I had a weirdly enthusiastic obsession with the Oscar Mayer Wienermobile. It was half out of stupid, ironic college guy humor, and half out of being sincerely...
BY: Instant Grit
If you haven't heard, the Cooper River Bridge Run is tomorrow! If you don't know what that is, you've never ever, ever, been to Charleston, or have been living under a rock. The Bridge Run is one of...
BY: Rory Gruler
BY: Instant Grit
Arthur J Ravenel Bridge, what, the hell, are you doing? Over the past few weeks, days, you've seen some serious stuff man. From being frozen into a susbended skating lane, to being opened back up as...
BY: Katie Hurst
The best part about this blog was that the interview was done WHILE RUNNING. Nice work, Katie. As for the rest of us, we're hanging on her words to keep us going tomorrow... Speaking of,...
BY: E. Louise
I've mentioned in a past blog that University of Michigan's head coach, John Beilein, is my mom's youngest brother. Which means… Uncle John is headed to the Final Four. The Final Friggin'...
BY: Katie Hurst
If you're like me, you've probably just realized that the Cooper River Bridge Run is less than a week away and you're starting to freak out a little. I definitely should have run the bridge more...
BY: E. Louise
"Not to be a negative Nelly, but it almost seems like I may never be an Olympic athlete." That's a quote from my friend Myndi. She's 37, a financial analyst, and a former member of her high...
BY: Instant Grit
video platform video management video solutions video player In just about a week and a half, the Bridge Run's "Ridiculously Photogenic Guy" has gone from being an average (albeit gorgeous) Joe,...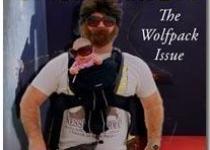 BY: Ellen McGauley
There's been much buzz about The Hangover's Alan lurking around the Cooper River Bridge Run this year (it's actually his second go at it), so much so that a rogue cover entrant appeared in...
BY: E. Louise
We Bridge Run veterans think we know it all. All the 1,956 douchey things you can do during a race that irritates/fascinates the rest of the pack. But I heard a new one today, from the enlightening...