Connelly Confusion
BY: Rebeccah Connelly
Four Hens & Rooster Last year, I sort of wrote a Thanksgiving post on my personal blog about gratitude. More specifically, it was about the things I am NOT thankful for, some of which...
BY: Rebeccah Connelly
Friday evening, I had the pleasure of attending the Giving Back Awards—a joint effort between Charleston magazine and the Coastal Community Foundation—at the Memminger Auditorium. This...
BY: Rebeccah Connelly
So, I'm not sure about you guys, but I seem to be one of those people who attracts weird shit. (Pardon the language—there is just no other way to describe this. I know y'all know what I'm saying.)...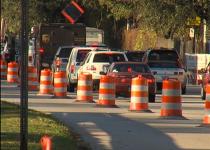 BY: Rebeccah Connelly
ABC News 4 So I think we can all agree that there is always a certain point in the summer where people start to go kinda crazy. My theory is that it's the heat and in our case here locally,...
BY: Rebeccah Connelly
I love the movie Top Gun. I do. So when I got the Groupon for a Top Gun-themed party on the flight deck of the Yorktown, I was all in. So last night, a bunch of us broke out the aviators...
BY: Rebeccah Connelly
Last week, our 4th plans included a short vacay to Florida to spend time with friends. Because I'm completely neurotic, planning a trip to, well, anywhere, induces massive amount of anxiety. Getting...
BY: Rebeccah Connelly
Last weekend, I found myself shopping King Street. ... For the three of you who don't know, this is basically ground zero of Charleston fashion and therefore tends to attract a certain...
BY: Rebeccah Connelly
If you have ever had the pleasure of seeing "Papa" Futch perform with the Blue Dogs (above) at Rockin' on the Point, you will know exactly what I'm talking about. He leads into the song with a...
BY: Rebeccah Connelly
Striking Alchemy "The father's job is to teach his children how to be warriors, to give them the confidence to get on the horse to ride into battle when it's necessary to do so. If you don't...
BY: Rebeccah Connelly
So yesterday evening I attended the one-year anniversary/Gritty Awards party for the Charleston Grit blog community, held at The Alley. These kinds of events give me a fair amount of anxiety because...