Connelly Confusion
BY: Rebeccah Connelly
Four Hens & Rooster Last year, I sort of wrote a Thanksgiving post on my personal blog about gratitude. More specifically, it was about the things I am NOT thankful for, some of which...
BY: Rebeccah Connelly
Friday evening, I had the pleasure of attending the Giving Back Awards—a joint effort between Charleston magazine and the Coastal Community Foundation—at the Memminger Auditorium. This...
BY: Rebeccah Connelly
So, I'm not sure about you guys, but I seem to be one of those people who attracts weird shit. (Pardon the language—there is just no other way to describe this. I know y'all know what I'm saying.)...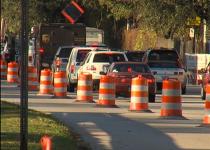 BY: Rebeccah Connelly
ABC News 4 So I think we can all agree that there is always a certain point in the summer where people start to go kinda crazy. My theory is that it's the heat and in our case here locally,...
BY: Rebeccah Connelly
I love the movie Top Gun. I do. So when I got the Groupon for a Top Gun-themed party on the flight deck of the Yorktown, I was all in. So last night, a bunch of us broke out the aviators...
BY: Rebeccah Connelly
Last week, our 4th plans included a short vacay to Florida to spend time with friends. Because I'm completely neurotic, planning a trip to, well, anywhere, induces massive amount of anxiety. Getting...
BY: Rebeccah Connelly
Last weekend, I found myself shopping King Street. ... For the three of you who don't know, this is basically ground zero of Charleston fashion and therefore tends to attract a certain...
BY: Rebeccah Connelly
If you have ever had the pleasure of seeing "Papa" Futch perform with the Blue Dogs (above) at Rockin' on the Point, you will know exactly what I'm talking about. He leads into the song with a...
BY: Rebeccah Connelly
Striking Alchemy "The father's job is to teach his children how to be warriors, to give them the confidence to get on the horse to ride into battle when it's necessary to do so. If you don't...
BY: Rebeccah Connelly
So yesterday evening I attended the one-year anniversary/Gritty Awards party for the Charleston Grit blog community, held at The Alley. These kinds of events give me a fair amount of anxiety because...
BY: Rebeccah Connelly
Surfer's Village So. It's that time of year again. As of this coming Saturday, June 1 (NOAA forecast here), we will offically begin hurricane season. I was 14 when Hurricane Hugo rolled...
BY: Rebeccah Connelly
While Memorial Day has its origins in a much more somber place, it has also come to mean the beginning of summertime. And summertime means grilling. One of my favorite things to have from the grill...
BY: Rebeccah Connelly
One blazing August some years back, I began my career as a student at the University Of South Carolina in Columbia. I knew barely anyone, as a very large proportion of my friends had stayed in...
BY: Rebeccah Connelly
We are, once again, trying to have a small summer garden. Last year went pretty okay—we had several varieties of tomatoes, yard-long green beans (yes, that is a thing), and peppers that were too hot...
BY: Rebeccah Connelly
Rebeccah has a way of calling it like them sees 'em. So when this one came in, titled "5 Things I Never Want to Hear Again," we settled in for a good reality check. And that's what we got. It...
BY: Rebeccah Connelly
Banning words, like banning books, has a distinctly Big Brother kind of feel. However, the world may very well become a more harmonious place if we could agree to never touch on the following talking...
BY: Rebeccah Connelly
Earlier this week, I picked up my children from the library, which is their bus stop on the days they actually ride the bus. This branch is a stop for multiple schools, and lots of kids wait...
BY: Rebeccah Connelly
The news from Connecticut has shaken me to the core and I'm well aware that I'm not alone in that feeling. Friday I was stunned into near speechlessness and my only desire was to get my hands on my...
BY: Rebeccah Connelly
Alright, we admit it. Grit editors plucked this blog out off of our short list on the eve of what is sure to be a very busy weekend. Shop, clean, party, repeat. And repeat and repeat......
BY: Rebeccah Connelly
For those of you who have kids, you probably already know what I'm talking about. For those of you who don't, or have been lucky enough to dodge this particular holiday bullet, here's the...