chelsie ravenell
BY: Ayoka Lucas
Chelsie Ravenell has no anchor. You can't hold him to one role. Model? Sometimes. Bartender? Here and there. Father? Always. Designer? Well, you do the math here. ...
BY: Instant Grit
Desmond Kinlaw's five-part "Spring's Essential Trends" series offered just the reminders we needed, didn't it? For instance, we always appreciate a reminder to the gents to take a risk. To...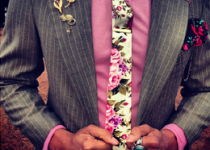 BY: Desmond Kinlaw
After six months of lifeless, bare trees, this next trend helps remind everyone that blooming season is here. Looking to add a little punch around your neck? Cop yourself a floral tie. ...
BY: Desmond Kinlaw
This past Saturday night, I was invited to celebrate the Southeast's newest class of couture talent heading into Charleston Fashion Week 2013. This weekend's Emerging Designer Party, held at the old...