chelsie ravenell
BY: Ayoka Lucas
A brief look at model, father, men's clothing designer Chelsie Ravenell, and his best style moments around the globe...
BY: Instant Grit
This blogger's terrifically fun posts have offered us enough warm-weather eye candy, we've been able to get our seasons on straight again—from beach days to hot-as-blazes nights on the town...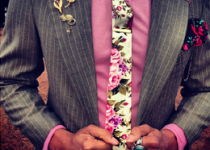 BY: Desmond Kinlaw
Can men pull this off? I've got a handful of looks that say YES. Here's how to sport a floral tie...
BY: Desmond Kinlaw
With Charleston Fashion Week only two months away, the semi-finalists for the Emerging Designer Competition are revving up their collections. Check out some photos from the big sneak peek party