cheese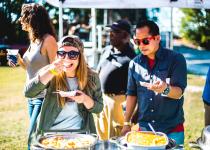 BY: Mac Kilduff
Up to this past Saturday, I had never attended a food competition, let alone one dedicated to the classic, go-to comfort food that bears my namesake: mac and cheese. Attending the 5th ...
BY: Holly Herrick
In this, their third cookbook, Matt Lewis and Renato Poliafito, the Brooklyn-based founders of Charleston's Baked bakery, really hit the ball out of the park (or should that be...
BY: Holly Herrick
The chilly nights and brisk days of fall bring with them the siren call for some serious comfort food. And truly, what makes better comfort food than a really excellent mac 'n cheese? I love to...
BY: Holly Herrick
Remember that song from Monty Python about "wonderful Spam, marvelous Spam?" Well whenever it pops into this cheese-head's head, the words are automatically converted to "Cheese, cheese,...
BY: Holly Herrick
Many mornings, I awake dreaming of cheese. It's a strange admission, but it's true. I believe my love of cheese goes back to my French years. Nearly every day of every seven of those years began with...