cheese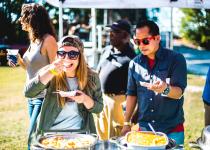 BY: Mac Kilduff
5th Annual Charleston Mac Off is the ultimate battle of the comfort food.
BY: Holly Herrick
Bring out your inner baker and score a humorous read with Baked founders Matt Lewis and Renato Poliafito's new cookbook (recipes included: Lacy Panty Cakes and Banana in a Blanket)
BY: Holly Herrick
Fall is the perfect season for everyone's favorite—ooey, gooey mac 'n cheese. Here's an elegant (but still simple) version perfect for any special supper (perhaps a Halloween feast?!)
BY: Holly Herrick
What's better than a thick slice of cheddar? Smooth, silky cheddar cheese bechamel sauce. Perfect for dipping, this fondue-esque recipe should be your go-to when entertaining (company and kids, alike)
BY: Holly Herrick
Cheese lovers will revel in the delights of Goat. Sheep. Cow. Wine lovers, charcuterie lovers, and bread lovers, too!