Charleston Music Scene
BY: Hunter Gardner
We've got our eye on this Charlotte, NC folk/rock singer and songwriter performing at a Park Circle bar tomorrow night.
BY: Devin Grant
When a group of local musicians decided to pay tribute to that greatest of all white-boy soul groups, Hall & Oates, at the Pour House, the results were sublime.
BY: Instant Grit
We love good music and we love a good cause, but this Wednesday at the Royal American, the band Melodime will combine the two for a must see show that will blow your mind.
BY: Instant Grit
Elise Testone blew away the Charleston Music Hall last night with a collection of covers that inspired her and an array of original songs from her debut CD in one fantastic live performance.
BY: Tim and Devin
Better late than never, here's the third and final review of everything that's happened in the Charleston music scene over the past year from our music experts, Tim and Devin.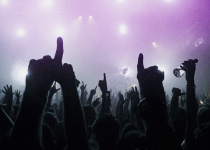 BY: Tim and Devin
Some bands go big, some bands go home, and some bands simply gypsy from city to city. See who did what in our second installment of Tim And Devin's Year In Review.
BY: Tim Brennan
Adding childcare rooms to bars, drug insanity, whether I'm the creepy old guy at the end of the bar, YES you can buy me a beer, and a dozen other sleep-deprived musings
BY: Devin Grant
Think politics are a pain in the ass now? This post was proof positive it's a volatile issue no matter the candidates OR supporters, just as it was for these 70s-era six-year-olds
BY: Hunter Boone
Shatterdog's Fisticuffmanship will be having an official CD release at The Tin Roof on August 29th. Come on out and hear some good ol' boy Americana!
BY: Tim Brennan
How disgusting, revolting, icky rock bands stay healthy. (Photo: the men's room at iconic CBGBs in NYC, now closed. Note: no door)
BY: Tim Brennan
Brand new Gritter Tim Brennan started off with a bang with his entertaining—and thought-provoking—observations on our local music scene. Charleston, where IS the weird?
BY: Tim Brennan
What I'm looking for in live music is a bit of insanity, some weird, some risk, some show... Here's my take on what's lacking in our own local music scene
BY: Renae Brabham
I had the pleasure of publishing a column on John Brannen recently. John is shooting the film right now for his movie Midnight Rain, which I also hope to cover, minus mosquitoes and alligators