Charleston Music Hall
BY: Tim Brennan
Gaslight Street Anyone who has ever been in a band with me knows I try to hold to certain rules about scheduling shows. 1. Don't play too often. No more than...
BY: Devin Grant
Okay, so first it must be said that the band Slow Runner has one of the more amusing band bios out there. No, I'm serious. Go right now to slowrunnermusic.com and read it. I'll wait. ...
BY: Tim Brennan
Rachel Kate – With Love And Hate Releases September 14, 2013 The first thing that hit me when I started playing this CD was what a great voice Rachel has. The second thing that struck me was her...
BY: Tim Brennan
Toward the end of the Spoleto Festival, I decided to go off the beaten path for one show. Well, I should say off the citified asphalt strip and onto the beaten path that is bluegrass music. The...
BY: Devin Grant
I'm a sucker for a good movie quote. You know, like "I'll be back," "Frankly my dear, I don't give a damn," "You talkin' to me?" or "May the Force be with you." In the "Lethal Weapon" action film...
BY: Devin Grant
I was never majorly into heavy metal music while growing up. Sure, there were a few bands that caught my ear, but for the most part I shunned acts such as Judas Priest, Iron Maiden, and Black Sabbath...
BY: Devin Grant
As much as I love music, and as much info as I enjoy absorbing about the medium, I have to admit that I have a weak spot—jazz. That isn't to say that I dislike the musical style, quite the contrary....
BY: Devin Grant
I wrote last week about the swan song performance by Crowfield at the Charleston Music Hall. The event took place last Friday, and Crowfield fans came out in droves to see their favorite band off. I'...
BY: Devin Grant
It's always sad when a music act you've followed faithfully decides to pack it in. Sometimes the breakup makes perfect sense, like when Led Zeppelin called it quits after the death of John Bonham....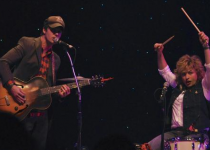 BY: Devin Grant
We weren't among the lucky ones actually at the Charleston Music Hall last Saturday night, so Devin's Shovels & Rope review gave us some mixed emotions. On the one hand, we were pissed—...