Charleston Music Hall
BY: Devin Grant
Despite some rude and clueless audience members, Justin Townes Earle managed to charm the crowd at the Charleston Music Hall Sunday night.
BY: Tim Brennan
Music blogger Tim Brennan reviews the local band who just released their new, six-song album, Good Luck.
BY: Devin Grant
Spirits were high as two folk legends brought their old-time acoustic sound to the Charleston Music Hall last Sunday night, and this time, no one at the bar had to be told to shut up.
BY: Devin Grant
Nothing is better than great live music. Local singer-songwriter has a solid new album out, and shows she can recreate the music from that album beautifully at a couple of recent local performances.
BY: Devin Grant
After rocking out with Drivin N' Cryin, Sadler Vaden is now part of Jason Isbell's band, The 400 Unit. Blogger Devin Grant gets a one-on-one with Sadler before tonight's show at the CHS Music Hall.
BY: Instant Grit
Elise Testone blew away the Charleston Music Hall last night with a collection of covers that inspired her and an array of original songs from her debut CD in one fantastic live performance.
BY: Devin Grant
Kevin Hanley and friends from Cord & Pedal Records pulled out all the stops for another spirited holiday program, this time at the Charleston Music Hall—Shovels & Rope, Rachel Kate Gillon, and more!
BY: Tim Brennan
These three bands broke all of my rules for planning a big show—they're basically doing the opposite of what I'd do. But I'll tell you why this is still a big-time must-see performance...
BY: Devin Grant
Before they take an extended break, local band Slow Runner's playing one last show (for a while at least) at the Chas Music Hall Friday. Here's the scoop on the show, plus the reason for the hiatus
BY: Tim Brennan
The debut CD from the former lead singer of The Shaniqua Brown is a departure from her former band's punk/metal reputation. Why Shovels & Rope, Gillian Welch, and Neko Case fans will get into it
BY: Tim Brennan
What do the bands named above, Spoleto, the Appalachian Trail, psychoactive homemade liquor, and Sanford have in common? This blog post. Read on, friends. Read on
BY: Devin Grant
One night, three venues, four decidedly different music acts. Perhaps my brain wrote a check that my body barely covered... but it was a damn fun night out in Charleston. Read on for reviews
BY: Devin Grant
In the '90s, no band in town brought the noise better than Childrens Choir. Metal enthusiasts: Catch a rare live show from them (an anyone's-welcome wedding after-party) tomorrow at the Chs Music Hall
BY: Devin Grant
"There isn't a bad seat in the house..." My former Wando High classmate Charlton Singleton on Charleston Jazz Orchestra's "Atomic Basie" shows (this Saturday night!), a must-see this weekend
BY: Devin Grant
The band's final show at the Charleston Music Hall: a photo essay
BY: Devin Grant
Friday, local band Crowfield will play one last blowout at the Chas Music Hall. I sat down with frontman Tyler Mechem to talk about their breakup, the finale show, and what's next for the bandmates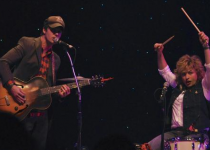 BY: Devin Grant
If you missed the Shovels & Rope show last Saturday, this is your must-read review. Like us, you'll make sure you get tickets next time...
BY: Devin Grant
The duo made a triumphant return to the Holy City Saturday with a sold-out show at the Charleston Music Hall. Didn't get a ticket? No worries! Actually... Yeeeaah, you really missed out. Recap HERE
BY: Tim Brennan
Though you sure can't learn the definition of ironic from Alanis Morissette, I discovered Saturday night that if you listen closely, the Charleston duo Shovels & Rope can teach you a thing or two...
BY: Devin Grant
Proving runners-up are often the real deal, Chas' own Idol alum Elise Testone rocked the Charleston Music Hall Valentine's night. Read on for a recap, plus when and where you can see her next