Charleston Library Society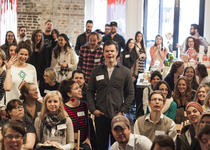 BY: Jess Spence
How you do get a bunch of young creatives out of bed before 8:00 a.m.? Good coffee and Creative Mornings.
BY: Joan Perry
Perhaps the big city runways are taking their neon cues from us? Here's the hot gold hue turning heads outside the Library Society...
BY: Stephanie Hunt
All a writer needs is a pen and pad... A dog pen and four padded hoofs, that is. Lowcountry authors go fetch some puppy love at tonight's book release (bow-WOW) to benefit Charleston Animal Society
BY: Stephanie Hunt
Stodgy, musty and studiously serious? Not today's Library Society as the South Carolina native rocks the Piccolo Literary Festival finale
BY: Instant Grit
A 270-year-old book's been discovered in the vault of the Charleston Library Society... Quite a treasure, but who gets it?
BY: Molly Hutter
Trying to work some culture into your little ones' weekend routines? Head to the Charleston Library Society this Saturday for an artistic adventure with local author Celia Cerasoli