Charleston Grit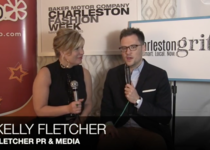 BY: Jeremy McLellan
With your confessor, comedian Jeremy McLellan.
BY: Julie Wheat
Style: it's not just about the clothes; it's the attitude you need to pull it off. Check our our favorite looks from night two of Charleston Fashion Week®.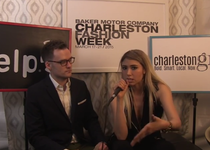 BY: Jeremy McLellan
With your confessor, comedian Jeremy McLellan.
BY: Jeremy McLellan
Charleston Fashion Week® is a marathon, not a sprint. Jeremy McLellan didn't get the memo.
BY: Renae Brabham
No, it doesn't look like your family is from old money, it looks like your house needs to be painted by someone who know's what they're doing, and takes pride in quality craftsmanship.
BY: Renae Brabham
Sometimes it takes something as simple as ducks on a pond to make you think about the meaning of life, and blogger Renae Brabham takes that journey one sunny afternoon.
BY: Renae Brabham
Jeopardy or Grit Party? Here's another recap of our party to celebrate writers that contribute to the site, from one of the writers who just can't say no to a good cocktail party.
BY: Instant Grit
We're at it again! Last night, at the beautiful home of Reclaimed Designs, we honored some writers and friends with a soirée filled with food, drinks, music, and most importantly, smiling faces
BY: Renae Brabham
The "Southern Charm" trailer's caused a commotion. But really—what can a reality show bring about that we don't already know? Let's remember what it is that truly makes our Southern city so charming..
BY: Renae Brabham
... 'Tis my mantra for 2014. I realize I've been inundated lately with crap—that I've spent way too much time thinking about what she said, he said, and what the fox said. So here it is: My resolution
BY: Renae Brabham
While some are already jamming out to Christmas carols, I'm getting PUMPED for Thanksgiving. 16 days and counting to enjoy the season before we're all Trypting out (as in Tryptophan) on turkey...
BY: Renae Brabham
Get ready to switch your clocks. Me, I'll comply with DST change-ups if I must, but mostly I file the rigidity of the calendar seasons in the BS pile. I have my own guide to the seasons...
BY: Renae Brabham
What do quinoa and handicap go-carts have in common? Well, me of course... A ridiculous food allergy story for your Tuesday, complete with phantom phone calls and a slow-mo Harlem Shuffle
BY: Instant Grit
Bloggers and friends gathered at The Alley last night to celebrate Grit's first anniversary. Click here for party pics—plus Gritty Awards!—from the birthday bash
BY: Instant Grit
We've been counting down the days to summer and adding up the reasons to be more than pumped it's here. Here's your complete guide to living it up! Plus, how to win a free blowout from Tease Dry Bar
BY: Instant Grit
Here goes... All week, Grit will be counting down to the start of Charleston's golden season: SUMMER! Kicking it off is our quick list of DO'S and DON'TS for living it up this summer. Are you ready?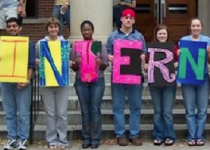 BY: Cullen Murray Kemp
Post-grad success: A resume ripe with internships? An impressive corporate position? Or maybe it's being genuinely happy with a not-so-perfect plan. A recent article in "The Week" has me wondering...
BY: Instant Grit
We're on the hunt for an outspoken, in-the-know blogger to cover the nightlife and society scene around Charleston. Read on to see what we're looking for and details for how to apply TODAY!
BY: Tim Brennan
They may have rhythm, good looks, and a magnetic personality, but I bet they don't have a refrigerator that looks like an amp. Here's this and more great gift ideas (from an award-winning blogger...)
BY: Instant Grit
Did your favorite blogger score a nod? At the Charleston Grit Blog-Worthy Holiday Bash last night, we announced our 3rd quarter best-of-blog Gritty award winners. Click here to see who won!
BY: Renae Brabham
A near year-end review of my go-to blog site (Editor's note: We SWEAR we didn't bribe Renae to write this)
BY: Renae Brabham
There's a little more in our blood than triglycerides and cholesterol, sometimes we come face to face with our DNA
BY: Instant Grit
We've got FRESH new details on Ryan and Blake's Cotton Dock wedding last night, including which GRIT blogger planned the bash and who served up the fancy creamed corn. Get it here...
BY: Renae Brabham
There are many adventures ready to be had here in the Lowcountry. Some just require a bit of gas, an RC Cola, and a willingness to turn down that unfamiliar road
BY: Instant Grit
Here they are: The Second Quarter, 2012 Gritty Award winners
BY: John F. Abess
Without anxiety, we might be pretty useless people. This, and the recent bus bullying video gone viral, begs the question: are we instilling ENOUGH of these jitters in our children?
BY: Renae Brabham
Some things God is a stickler about and sunrise is one of them—a literary snapshot of our shore at first light
BY: Instant Grit
Introducing PhotoGrit, where you can get your 15 minutes of photography fame
BY: Renae Brabham
Last week's "Supermoon" lit up a world of questions I'm not even sure I want answered. After all, perception is (thankfully!) hardly reality...