Charleston fashion
BY: Natalie Mason
It is no secret that I love a maxi dress. It's a one stop outfit. You don't have to think about matching bottoms or tops, you just throw it on and you're pulled together instantly. I also love...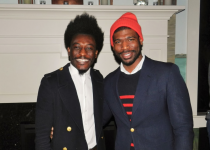 BY: Desmond Kinlaw
This past Saturday, I was invited to an event introducing a new batch of semifinalists that will be competing during Charleston Fashion Week this coming March. The Memorial Waterfront Park in Mount...
BY: Instant Grit
We know Charleston's K. Cooper Ray for his wildly popular style blog Social Primer, for his bow ties sold via Brooks Brothers (find them here), as a former panelist for Charleston...
BY: Chassity Evans
This week you can find me over on the Hampden Clothing website as their very first guest style editor. If you haven't been to Hampden's site in a while then get ready to be blown...
BY: Rory Gruler
BY: Chassity Evans
Y'all are just dying for another Charleston Fashion Week write up, right? Like we really need another one. But I think we do. I attended the shows the last two nights and saw the good, the bad, and...
BY: Chassity Evans
Last week Stacy Smallwood of Hampden Clothing hosted designers Lizzie Fortunato (LLL favorite, for sure) and Timo Weiland (a new LLL favorite, for sure) for a little...