Charleston Chow
BY: Holly Herrick
I spent most of last week channeling my inner Irish Catholic guilt. I confess that's because while what seems like the rest of the country was commiserating over the "Polar Vortex," I was (as my Iowa...
BY: Holly Herrick
Valentine's Day, the holiday that almost everyone loves to hate, is upon us. While not one of this diehard romantic's favorites due to its forced, contrived nature and requisite expense, I can still...
BY: Holly Herrick
Sack the chili and other usual Super Bowl menu suspects and throw a touchdown with this classic French stew: Coq au Vin. Make it ahead, serve, and hear 'em roar! This one is a winner that the whole...
BY: Holly Herrick
The brutal winter weather of the past few weeks has left me with a near constant craving for soups and also long-braised stews. Combine this with the near constant recipe testing for my next cookbook...
BY: Holly Herrick
Hardly anything I can think of trumps the utterly simple deliciousness of a well prepared French onion soup. Similarly, I can think of nothing utterly worse than a thin, flavorless ill-prepared...
BY: Holly Herrick
I've been having fun in my kitchen lately experimenting with French soups for my upcoming book on the subject. One of the things that makes soup French (aside from being delicious) is attention to...
BY: Holly Herrick
Thanksgiving is all about tradition, but let's face it, not everyone loves apple, pumpkin, or pecan pie, and not everyone loves to bake or get involved with making or rolling out pie pastry.That's...
BY: Holly Herrick
Chow.com Last week, a full two weeks before Thanksgiving was even scheduled to arrive, I got an intense craving for turkey. Not the deli variety and not the roasted kind you can buy. I needed...
BY: Holly Herrick
WIlliamsburgcc.com I've had the happy occasion to spend a fair amount of time in Williamsburg, Virginia in recent months for book signings and to visit a very special someone....
BY: Holly Herrick
For whatever reason, God chose not to bless me with children. For a while there, back in my 20s and 30s, I was pretty sad about that. Instead of being surrounded by the two tow-headed sons I...
BY: Holly Herrick
A crazy, water-logged summer has taken its toll on farmers and produce. The sweet, juicy peaches of summers past have been tasteless over-sized balls of flavorless water, and tomatoes halted...
BY: Holly Herrick
As I do every year, last New Year's Eve, I pondered my resolutions for 2013. At the top of my list was extricating negative people from my life. This sounds simple enough, but for me—someone who...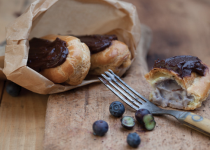 BY: Holly Herrick
Health For me, blueberries are a fruit laden with delicious memories of summers past. Hot July days of my youth were often spent picking plump, purple berries off the prolific bush on our...
BY: Holly Herrick
In the South, summer's as much about ice cream as it is about squeaky screen doors, slowly swaying hammocks, sweet tea, and fireflies.Though there are oodles of store-bought ice cream...
BY: Holly Herrick
My father was (and still is) many things to many people: a busy corporate executive overseeing a large staff, a friend to many, a close brother to his brothers Jim and John, a loyal husband, a...
BY: Holly Herrick
The Alley has been open since November, but it's the eats I want to talk about. The newish bowling alley housed in a former wine distribution warehouse directly across from The Post and Courier on...
BY: Holly Herrick
Early spring so selflessly affords us many wonderful things worth celebrating. The air is sweet with the heady frangrances of jasmine, wisteria, and budding trees—so beautiful they mandate...
BY: Holly Herrick
It's been a sweet week in my busy little kitchen. My right arm has been stirring and stirring and stirring the likes of choux pastry and what seem like vats of pastry cream as I get underway...
BY: Holly Herrick
I have an unusual appreciation for my two Le Creuset Dutch ovens. I think it's fair to say that I love them. Walking around the Charleston Wine + Food Festival the last few days under the constant...
BY: Holly Herrick
Most people think of eclairs as something filled with cream and topped with chocolate, or some other decadent sweet flavor pairing. However, the pastry they're prepared with—the ever versatile choux...