Charleston Chow
BY: Holly Herrick
Making bisque the right way isn't for the faint of heart, but the results are well worth the work, and it can be in stages. This is about the most beautiful crab bisque you will ever savor.
BY: Holly Herrick
Saint Patrick's Day is more than corned beef and cabbage. Jump start the fun with this gorgeous, deep green, and delicious creamy asparagus soup.
BY: Holly Herrick
The big chill we've endured of late is the perfect excuse to make a long-braised, delicious soulful stew, such as Pot au Feu. This stew is a classic for a reason, it's remarkably good.
BY: Holly Herrick
Why not share one of the greatest expressions of love for your lover this Valentine's Day and cook up some delicious beignets. They're fun to make and even more fun to eat. Guaranteed lovefest!
BY: Holly Herrick
The same old, same old on Super Bowl Sunday can get boring and fattening, fast. Change the play with this winning and easy to make Coq au Vin, a French classic that everyone will love.
BY: Holly Herrick
With temps setting record lows lately, all I've been craving are soups and stews. Here's a delicious, easy-to-make lentil soup with bacon—a sneak-peek recipe from my upcoming cookbook!
BY: Holly Herrick
Though layered with complex flavors, French onion soup couldn't be more simple—or delicious. As it can be made ahead and assembled last minute, it's a snap for holiday entertaining (i.e. New Year's)..
BY: Holly Herrick
Here's a draft of a new recipe for my upcoming cookbook, "The French Cook: Soups and Stews," out fall 2014. The brilliant red, white, and green hues of this soup make it a perfect Christmas starter
BY: Holly Herrick
Ditch the traditional pie this Thanksgiving and serve up a decadent—and oh so easy—tart. With peanut butter, marshmallow fluff, whipped cream, and chocolate, it's a Reese's lover's dream come true
BY: Holly Herrick
Editors' Note: if this post doesn't give you a hankering for turkey just like your mama makes, we don't know what will? Meantime, cue the run-up to warm, aromatic kitchens and crowded family tables
BY: Holly Herrick
Tourist food = bland and boring? Not so at these all-star restaurants in Williamsburg, Virginia. Foodies: if you've been having the itch to travel, here's where you should go and what you should order
BY: Holly Herrick
Anyone with me in thinking that pets are more than playmates or something to feed? Here's a look at the animals—pigs, goats, and cows included—that have seasoned my life with love and joy
BY: Holly Herrick
No one wants to work hard on Labor Day, so whip up this low-cal, super easy Sparkling Canteloupe Soup with Prosciutto and Basil. It's full of summer flavor (and champagne...)
BY: Holly Herrick
Having negative people in your life can weigh heavier on you than you think. Here's how I—a gal who abhors confrontation—said goodbye to some of mine... (kitchen photo by Helene Dujardin)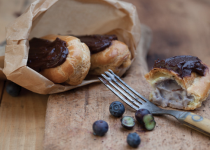 BY: Holly Herrick
If blueberries plucked right from the bush don't remind you of summers growing up, I don't know what will. Here's a delish recipe for sweet treats, and I didn't skimp on the chocolate...
BY: Holly Herrick
Next time you get a craving, go above and beyond and whip up this: Salted caramel macadamia ice cream topped with hot caramel sauce (a sneak peek recipe from my next book!). You'll be glad you did...
BY: Holly Herrick
Though Father's Day has come and gone, you don't have to wait another year to spoil your pops. Whip him up this versatile, delicious brunch recipe inspired by my own father's go-to breakfast
BY: Holly Herrick
Think of bowling alleys as dark dives serving bad food? Here's what I loved from Home Team's menu...
BY: Holly Herrick
Some people go wild over baseball's season opener—others for warm weather and the start of long days in the sun. Me? I go crazy for the return of farmers markets. Here's why (recipes included!)
BY: Holly Herrick
How about a sweet treat to start your week off right? Before we leave winter behind, make a batch of Pumpkin Pecan Spiced Cream Puffs—a sneak peek recipe from my next cookbook!