Broad Street
BY: Joan Perry
BLFs Forever! That would be Best Leopard Friends Forever. In the summer of 2011 I wrote this entry after vandals had destroyed one of the pair of leopards in front of...
BY: Ayoka Lucas
When there is a great fashion presence it can't be denied. Kate Stewart is what I call a style pusher… taking the current status quo and pushing the envelope, therefore elevating the whole...
BY: Instant Grit
Need a Hump Day happy? Or a reminder of how freaking cute our city is? Take a quick break and scroll through our Instagram pics snapped throughout the Peninsula. Have some more? Share them here...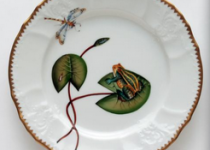 BY: Tara Guérard
Last weekend, one of our brides selected Anna Weatherley's "Seascape" as her fine china pattern. It's gorgeous and I'm loving it! One of my favorite local shops The Boutique (on Broad Street)...
BY: Rory Gruler