Broad Street
BY: Joan Perry
After vandals destroyed one of the Peoples Building's leopard statues in 2011, one was left lonely for more than two years. The other day, though, I drove past and saw a second leopard! Here she is..
BY: Ayoka Lucas
Aren't familiar with vintage style broker Kate Stewart or her line alice & daisy? Here's your chance. Learn what's next for this local style star and where to see her goods TOMORROW...
BY: Instant Grit
Stop being so dang cute. Need a Hump Day happy? Take a quick break and scroll through these Instagram pics snapped throughout the Peninsula...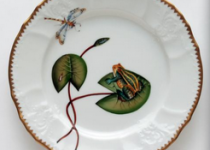 BY: Tara Guérard
Brides- and grooms-to-be (and anyone else looking to spruce up a drab dining room table)—have you seen what's in our local shops in the way of china and glassware? Here are two great resources
BY: Rory Gruler
Locals weigh in on the big debate, Darius scores a croonin'-good invite, cracking the St. Maarten murder, Travel & Leisure "tweets up" Charleston, and much more