Blogerati
BY: Hunter Boone
Seeking Veterans and Older Citizens for HBO's Vice Principals. Apply Now!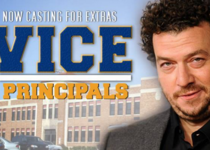 BY: Hunter Boone
HBO's Vice Principals is seeking new extras for Season 2, which is currently filming.
BY: Hunter Boone
One of the best ways to get aquatinted with Charleston's top mixologist and chefs is with Charleston Culinary Tours, where you and a group walk the peninsula and hit up 3 stops along the way.
 20% off with CHSGRIT2014!
BY: Hunter Boone
Catch a sneak peek of the Holy City iteration of this hilarious Comedy Central series before hitting tonight's premiere party at The Royal American.
BY: Hunter Boone
Spoleto ended last night with a bang heard clear across the Lowcountry as Shovels and Rope, and an amazing fireworks show capped off Charleston's biggest festival.
BY: Hunter Boone
Here's a Charleston-based reality show that won't leave a bad taste in your mouth. The Food Network is now casting for its new reality game-show, The Great Holiday Bake-Off!
BY: Hunter Boone
Here are the final Confessional Videos from Charleston Fashion Week 2014. Ayoka Lucas stops in and gives us a peek into what it's like to head one of the nation's biggest fashion events.
BY: Hunter Boone
Friday night was almost too good to be true, good thing Hunter Boone caught the best part, the confessions, on tape. Hold on to your seats, these are good.
BY: Hunter Boone
The booth is back! Here are the second night's confessions from the Charleston Fashion Week Confessional Booth.
BY: Hunter Boone
Hunter Boone brings us the confessions of Charleston's fashion scene with the Grit Confession Booth. Here what people are saying about the fashion, the shows, the tents, and their overall experiences.
BY: Hunter Boone
The only thing better than bacon is more bacon, that, and some bourbon, country music and a mechanical bull. Blogger Hunter Boone gives us the low down from the 1st annual Bacon and Bourbon event.
BY: Hunter Boone
The Charleston Music Hall hosted last night's Winter Film Showcase and gave us just a taste of the amazing upcoming music videos, shorts and documentaries Charleston has to look forward to.
BY: Hunter Boone
Comedy Central's Drunk History is shooting in town next week. Here's the EXCLUSIVE SCOOP on where, plus how you can get on camera, share your history smarts, and do what Charleston does best—get tipsy
BY: Hunter Boone
Guys, have you heard about the Mr. Collection? For less than the price of a new pair of jeans, you can borrow an awesome new outfit—head to toe. Here's the scoop, plus an exclusive 15%-off promo code
BY: Hunter Boone
Yep. But forget "Southern Charm" and "Myrtle Manor"—this upcoming TV show, "Give Me Shelter," documents the day-to-day challenges that face JI's no-kill animal shelter Pet Helpers. Here's the scoop...
BY: Hunter Boone
Mel Washington enlisted help from Brave Baby's Wolfgang Zimmerman, Death On Two Wheels' Alex Stanley, & others to record a seriously soulful Christmas album. Hear some (& enter to win a copy!) here
BY: Hunter Boone
I hit the magazine release party the other night, honoring GQ's Most Imaginative Bartender contender Hallie Arnold. I sucked back a few of her winning cocktails and snapped a few photos of the bash..
BY: Hunter Boone
Sunday night, the local power folk singer debuted a home-brewed music video for "Lost," a track off her latest album. Check out the video—plus more on Rachel Kate—here
BY: Hunter Boone
Highlights of last night? Clouds, balloons, #twitterception, a coyote, new tracks from Elise, and presentations by Sully Sullivan, Ayoka Lucas, Marcus Amaker, Nathan Durfee, and more. All that here
BY: Hunter Boone
Did you go to the star-studded softball game this weekend? My brother played on Team Taco Boy for the annual event to benefit Louie's Kids, and I was in the dugout snapping pics. Here they are!
BY: Hunter Boone
Every month, menswear line Frank & Oak releases a new collection or "issue," with this month's being the "Progression Issue". Here are some sharp cool-weather looks with a twist of London style...
BY: Hunter Boone
Charlestonian Kelly Flourney has co-created "Zendock," a killer docking solution for the Macbook Air, Pro and Retina laptops. Here's "before" and "afters" of your desk, plus a video for how it works
BY: Hunter Boone
You can't beat this line-up of local chefs, or find a more intimate way to see Band of Horses... More details on this 4th annual fundraiser to protect our waters, and how you can get tickets
BY: Hunter Boone
Well, maybe I didn't WIN. But here's some clips from my shot on game show Let's Ask America and a Q & A with host Kevin Pereira and one of the other Charleston contestants. Pants optional.
BY: Hunter Boone
It took a few days, but here it is: the final CFW video confessions! Complete with incognito fur, a sexy six-four non-model rocking the booth, and why the gals just can't cover up in chilly temps
BY: Hunter Boone
Nights 1 through 5 in the CFW Confessions Booth, sponsored by Charleston Grit and Yelp
BY: Hunter Boone
Who kicked off Friday night in the booth? Well, "Leather" designer and Lady Gaga pal Stevie Boi stopped by, plus emerging designer winner Afriyie Poku (before he won the whole thing). Take a look
BY: Hunter Boone
Ayoka Lucas crashes the party and chats up emerging designer Roz Morris, more buzz for Jazsayln McNeil, what to wear to get the paper in the am, and the search for the ugliest male model
BY: Hunter Boone
Buckle up... Last night was a busy night in the booth with Black Dave, confessors flashing their flasks, and 7 1/2-inch heels. And that's just the beginning...
BY: Hunter Boone
A pair of giddy confessors mistook me for the Pope (yeah, that happened), but the real story in the booth was Bits of Lace's lingerie show... what revelers thought of the gals in their skivvies
BY: Hunter Boone
Here's one: King Street's Sneaker is throwing a launch party to celebrate its new web shop—and by party I'm talking open bar, five live music acts (including Damon Chivers), and one BIG giveaway
BY: Hunter Boone
Our part of the world offers a killer backdrop, and plenty of filmmaking talent. But now that South Carolina has lost its competitive film incentives, we're losing location opps right and left
BY: Hunter Boone
I hung with the SNL veterans during their recent gig at my Music Farm. Here are the cool backstage stories, including why I respect frontman Angelakos now more than ever
BY: Hunter Boone
I talked to Greg Tavares, cofounder of Theatre 99 and now author, about his book "Improv For Everyone"—perfect, he says, for "the improviser who loves improv and wants improv to love you back"
BY: Hunter Boone
Shatterdog's Fisticuffmanship will be having an official CD release at The Tin Roof on August 29th. Come on out and hear some good ol' boy Americana!
BY: Hunter Boone
I talked with owner John Vergel de Dios on why he is shuttering the business and what's next for some H&U employees
BY: Hunter Boone
Do you love hamburgers? Do you own a Spider-Man costume? Well you're in luck! In a true act of patriotism, Hardees and Carl's Jr. are combining the two in celebration of the U.S. of A.