Blogerati
BY: Hunter Boone
Seeking Veterans and Older Citizens for HBO's Vice Principals. Apply Now!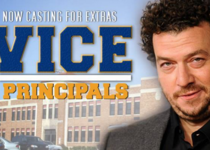 BY: Hunter Boone
HBO's Vice Principals is seeking new extras for Season 2, which is currently filming.
BY: Hunter Boone
One of the best ways to get aquatinted with Charleston's top mixologist and chefs is with Charleston Culinary Tours, where you and a group walk the peninsula and hit up 3 stops along the way.
 20% off with CHSGRIT2014!
BY: Hunter Boone
Catch a sneak peek of the Holy City iteration of this hilarious Comedy Central series before hitting tonight's premiere party at The Royal American.
BY: Hunter Boone
Spoleto ended last night with a bang heard clear across the Lowcountry as Shovels and Rope, and an amazing fireworks show capped off Charleston's biggest festival.
BY: Hunter Boone
Here's a Charleston-based reality show that won't leave a bad taste in your mouth. The Food Network is now casting for its new reality game-show, The Great Holiday Bake-Off!
BY: Hunter Boone
Here are the final Confessional Videos from Charleston Fashion Week 2014. Ayoka Lucas stops in and gives us a peek into what it's like to head one of the nation's biggest fashion events.
BY: Hunter Boone
Friday night was almost too good to be true, good thing Hunter Boone caught the best part, the confessions, on tape. Hold on to your seats, these are good.
BY: Hunter Boone
The booth is back! Here are the second night's confessions from the Charleston Fashion Week Confessional Booth.
BY: Hunter Boone
Hunter Boone brings us the confessions of Charleston's fashion scene with the Grit Confession Booth. Here what people are saying about the fashion, the shows, the tents, and their overall experiences.
BY: Hunter Boone
The only thing better than bacon is more bacon, that, and some bourbon, country music and a mechanical bull. Blogger Hunter Boone gives us the low down from the 1st annual Bacon and Bourbon event.
BY: Hunter Boone
The Charleston Music Hall hosted last night's Winter Film Showcase and gave us just a taste of the amazing upcoming music videos, shorts and documentaries Charleston has to look forward to.
BY: Hunter Boone
Comedy Central's Drunk History is shooting in town next week. Here's the EXCLUSIVE SCOOP on where, plus how you can get on camera, share your history smarts, and do what Charleston does best—get tipsy
BY: Hunter Boone
Guys, have you heard about the Mr. Collection? For less than the price of a new pair of jeans, you can borrow an awesome new outfit—head to toe. Here's the scoop, plus an exclusive 15%-off promo code
BY: Hunter Boone
Yep. But forget "Southern Charm" and "Myrtle Manor"—this upcoming TV show, "Give Me Shelter," documents the day-to-day challenges that face JI's no-kill animal shelter Pet Helpers. Here's the scoop...
BY: Hunter Boone
Mel Washington enlisted help from Brave Baby's Wolfgang Zimmerman, Death On Two Wheels' Alex Stanley, & others to record a seriously soulful Christmas album. Hear some (& enter to win a copy!) here
BY: Hunter Boone
I hit the magazine release party the other night, honoring GQ's Most Imaginative Bartender contender Hallie Arnold. I sucked back a few of her winning cocktails and snapped a few photos of the bash..
BY: Hunter Boone
Sunday night, the local power folk singer debuted a home-brewed music video for "Lost," a track off her latest album. Check out the video—plus more on Rachel Kate—here
BY: Hunter Boone
Highlights of last night? Clouds, balloons, #twitterception, a coyote, new tracks from Elise, and presentations by Sully Sullivan, Ayoka Lucas, Marcus Amaker, Nathan Durfee, and more. All that here
BY: Hunter Boone
Did you go to the star-studded softball game this weekend? My brother played on Team Taco Boy for the annual event to benefit Louie's Kids, and I was in the dugout snapping pics. Here they are!