beauty tips
BY: Andrew C. Petersen
What would I be without my makeup brushes? From the beauty beginner to the all-out makeup maven, owning and using brushes when creating a beauty look is so important and should come naturally...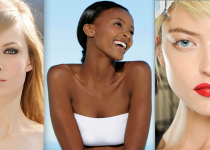 BY: Andrew C. Petersen
Click… Click... Click... The streets of Charleston are abuzz with the sounds of fabulous motion. The horse-drawn carriages that tool locals and tourists around our fair city have been drowned out by...
BY: Andrew C. Petersen
It's true what they say ladies, eyes are the windows to the soul. And let's be honest, they're usually the first thing a guy notices. Your eyes could have the most beautiful color or a...