Visual Arts
BY: Instant Grit
Modeled after the successful Community Supported Agriculture movement, Charleston Supported Art, LLC is an organization that gives members the opportunity to purchase shares in exchange for original...
BY: Stephanie Hunt
Last week, in the wake of announcements for the MacArthur Genius Awards (hooray for Alison Bechdel, whom, if you saw the CofC FunHome production, you already knew was a genius), another artist also...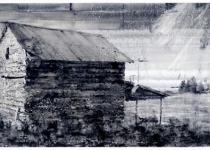 BY: Amy Coy
A great way to get to know the Charleston art scene is by joining an auxiliary group associated with one of the city's museums. These groups are growing around the country, and they provide a...
BY: Instant Grit
The Charleston arts scene is like none other. Local artists are everywhere, and cover a wide range of artistic ability and style. Downtown is flooded with galleries and street artists capturing the...
BY: Joan Perry
Eye catching mural here. I appreciate people making such an effort to keep me entertained. I was snooping around to see the changes happening at 1600 Meeting Street. and a lot has been done...
BY: Joan Perry
Charleston artist Shepard Fairey is leaving his mark in an exciting way and I caught a few of the pieces of art and then happened on him in action. He was giving a talk at the Halsey Institute...
BY: Stephanie Hunt
When the art-savvy Allison Williamson started the Charleston Artist Collective a few years ago, she broadened the booming local gallery scene well beyond Chalmers Street's venerable Pink House and...
BY: Ayoka Lucas
Remember Kristy Bishop? Well, she teamed up with Camela Guevara and five other forces in the Charleston arts community to bring you Charleston Supported Art, or CSA, which just officially...
BY: Instant Grit
The Blog of the Week is... Pecha Kucha 20: A 40-Something-Photo-Recap by Hunter Boone. He was at Parliament Charleston's 20th such event, and got a ton of photos of those who attended, spoke, sang,...
BY: Instant Grit
A few weeks ago, Grit blogger Cortney Bishop took us on an impressive design tour of the Flats at Mixson—the swanky studio apartment complex located in North Charleston's up-and-coming...
BY: Ayoka Lucas
« Guest StylePublic post by Dalia Dalili Kristy Bishop is a strong force in the Charleston art scene. A graduate from College of Charleston with a concentration in...
BY: Ayoka Lucas
In all honesty, who doesn't want to own something that's called BANGS! It rolls right off the tongue and has a rockin' ring to it! And founder Hannah Davis was on to something even greater...
BY: Molly Hutter
So last weekend, my friend and I were supping with an artist internationally acclaimed for his beautiful paintings (which, I should mention, were hanging all around us), and where did the...
BY: Ayoka Lucas
« Guest StylePublic post by Ally Francine During a lesson about surrealism in my 9th grade art class, the teacher showed us several short films, including David Lynch's...
BY: Ayoka Lucas
By Dalia Dalili Camela Guevara is an artist from Charleston. She's got great style, sharp wit, mean karaoke game, and turns just about anything she touches into gold. She's...
BY: Stephanie Hunt
I wonder what Webb Woodrow from 706 Greene Avenue in Brooklyn is up to these days? I wonder if he has any idea he's part of one of the best art exhibits I've ever seen in Charleston, at...
BY: Ayoka Lucas
Working in fashion, I find myself carving out hours just to go through emails. These are filled with the latest and greatest, requests, bookings, shoot production notes, you name it. It's like...
BY: Joan Perry
I don't need to ask if anyone else made the trip to ArtFields in tiny historic Lake City, SC, this past week. This town was HOPPING with people touring the displays, all part of this 10-day...
BY: Joan Perry
In life and in holidays, "simple" often nets the biggest celebrations. There's nothing like a harried holiday scramble or an overblown, over-anticipated gesture to suck the fun right out of what...
BY: Chassity Evans
Have you all seen Charleston's own Sarah Boyts Yoder's artwork? I'm crazy obsessed with her latest mixed media collection. Here's Sarah with her husband. Isn't she...