SC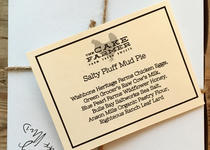 BY: Mike Grabman
As part of the Lowcountry Local's "Eat Local Challenge" I am drinking my way through Charleston's local inebriating options.
BY: Holly Herrick
Whisk Bakery brings the old city closer yet to her Euro roots with deep, rich coffee and fresh pastries best enjoyed nice and slow
BY: Holly Herrick
As The BB&T Food & Wine Festival is about to kick off its 7th festival, author Holly Herrick reflects on memories of festivals past, even as she looks forward to the next delicious event, 3/1-3/4
BY: Holly Herrick
Cheese lovers will revel in the delights of Goat. Sheep. Cow. Wine lovers, charcuterie lovers, and bread lovers, too!