Recipes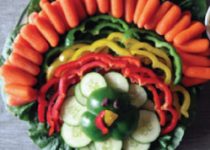 BY: Erica Rodefer W...
Here's a little reminder for all of the well meaning folks hosting a big, old traditional Southern Thanksgiving dinner at their houses later this week: Vegetarians don't eat turkey. I...
BY: Holly Herrick
A crazy, water-logged summer has taken its toll on farmers and produce. The sweet, juicy peaches of summers past have been tasteless over-sized balls of flavorless water, and tomatoes halted...
BY: Mellissa Sevigny
This month marks the 2 year blogiversary of "I Breathe I'm Hungry." Yay! :) I wanted to make something special to celebrate this accomplishment, but the idea of crafting an epic low-carb...
BY: Holly Herrick
My father was (and still is) many things to many people: a busy corporate executive overseeing a large staff, a friend to many, a close brother to his brothers Jim and John, a loyal husband, a...
BY: Instant Grit
COUNTDOWN TO SUMMER! Your Grit guide to Charleston's golden season MONDAY: Summertime Dos & Don'ts TUESDAY: The Best of Poolside WEDNESDAY: Get Your Grill...
BY: Desmond Kinlaw
You all know the name of my blog is called Chinos & Cheesecake. And that I think there is nothing like a well-made, well-fitting pair of chinos. Well, here's the other...
BY: Kristen Fehsenfeld
It was one of those mornings. Not quite ready to start the day, I hit the snooze button a few too many times, leaving no window in my already rushed morning to pack a lunch....
BY: Natalie Mason
As part of my New Year's life makeover, I'm vowing to reuse leftover food more often. I am embarrassed about how much food we waste in the Mason household. I will admit it, I am a snob when it comes...