Recipes
BY: Holly Herrick
Why not share one of the greatest expressions of love for your lover this Valentine's Day and cook up some delicious beignets. They're fun to make and even more fun to eat. Guaranteed lovefest!
BY: Holly Herrick
The same old, same old on Super Bowl Sunday can get boring and fattening, fast. Change the play with this winning and easy to make Coq au Vin, a French classic that everyone will love.
BY: Holly Herrick
Though layered with complex flavors, French onion soup couldn't be more simple—or delicious. As it can be made ahead and assembled last minute, it's a snap for holiday entertaining (i.e. New Year's)..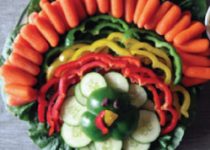 BY: Erica Rodefer W...
From the salad to the stuffing, here are 5 quick and easy tips for feeding a vegetarian this Thanksgiving (must-read etiquette advice also included...)
BY: Holly Herrick
No one wants to work hard on Labor Day, so whip up this low-cal, super easy Sparkling Canteloupe Soup with Prosciutto and Basil. It's full of summer flavor (and champagne...)
BY: Mellissa Sevigny
Bursting with summer flavors, this SUPER easy dish is only 47 calories... A celebratory dessert that's a celebration in itself? Yes, please... Get the recipe here!
BY: Holly Herrick
Though Father's Day has come and gone, you don't have to wait another year to spoil your pops. Whip him up this versatile, delicious brunch recipe inspired by my own father's go-to breakfast
BY: Instant Grit
Get the grill ready—we've got kabob recipes perfect for a backyard bash (think benne-seed shrimp and ratatouille skewers). Plus, what's THE cocktail of the summer? Learn how to mix it here
BY: Desmond Kinlaw
With today being National Cheesecake Day, let's talk... well, cheesecake. Where I first saw it, how to make it, why it's so good. Go on. Have a slice
BY: Kristen Fehsenfeld
Try this simple summer salad inspired by Caviar and Bananas, kale courtesy of Ambrose Farms
BY: Natalie Mason
A Lowcountry spin on classic Huevos Rancheros, filled with collard greens, black-eyed peas, and cheese. Pure Southern goodness