Recipes
BY: Holly Herrick
Valentine's Day, the holiday that almost everyone loves to hate, is upon us. While not one of this diehard romantic's favorites due to its forced, contrived nature and requisite expense, I can still...
BY: Holly Herrick
Sack the chili and other usual Super Bowl menu suspects and throw a touchdown with this classic French stew: Coq au Vin. Make it ahead, serve, and hear 'em roar! This one is a winner that the whole...
BY: Holly Herrick
Hardly anything I can think of trumps the utterly simple deliciousness of a well prepared French onion soup. Similarly, I can think of nothing utterly worse than a thin, flavorless ill-prepared...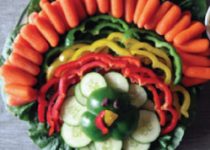 BY: Erica Rodefer W...
Here's a little reminder for all of the well meaning folks hosting a big, old traditional Southern Thanksgiving dinner at their houses later this week: Vegetarians don't eat turkey. I...
BY: Holly Herrick
A crazy, water-logged summer has taken its toll on farmers and produce. The sweet, juicy peaches of summers past have been tasteless over-sized balls of flavorless water, and tomatoes halted...
BY: Mellissa Sevigny
This month marks the 2 year blogiversary of "I Breathe I'm Hungry." Yay! :) I wanted to make something special to celebrate this accomplishment, but the idea of crafting an epic low-carb...
BY: Holly Herrick
My father was (and still is) many things to many people: a busy corporate executive overseeing a large staff, a friend to many, a close brother to his brothers Jim and John, a loyal husband, a...
BY: Instant Grit
COUNTDOWN TO SUMMER! Your Grit guide to Charleston's golden season MONDAY: Summertime Dos & Don'ts TUESDAY: The Best of Poolside WEDNESDAY: Get Your Grill...
BY: Desmond Kinlaw
You all know the name of my blog is called Chinos & Cheesecake. And that I think there is nothing like a well-made, well-fitting pair of chinos. Well, here's the other...
BY: Kristen Fehsenfeld
It was one of those mornings. Not quite ready to start the day, I hit the snooze button a few too many times, leaving no window in my already rushed morning to pack a lunch....
BY: Natalie Mason
As part of my New Year's life makeover, I'm vowing to reuse leftover food more often. I am embarrassed about how much food we waste in the Mason household. I will admit it, I am a snob when it comes...