Pop Culture
BY: Tim Brennan
"They can't put anything on the Internet that's not true." —gal in State Farm insurance commercial Actually, don't call it lying. It's fiction. Entertainment. Reality. Comedy. Ethical? Who...
BY: Tim Brennan
Damn, do we need a break. Armageddon has come in the guise of Miley Cyrus. Billboard Kardashian infants are tweeting before they're peeing. DIY Fashion ...
BY: Instant Grit
UPDATED: We heard back from the Skinful Halloween producers, and have a bunch more info to share. Start stocking up the body paint, ladies and gents—this is how Charleston does...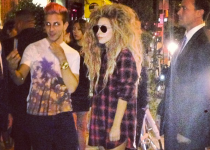 BY: Guest Blogger
Guest Grit post by Joe Quinn, model coordinator, Charleston Fashion Week (CFW) Every time I go to New York City I have the best, most modest intentions: I'll take the subway to...
BY: E. Louise
Moonshiners I saw this headline today: Is Hollywood done with Southern reality shows? Here's an excerpt from the story: Just a few months ago, networks were gunning to cram their...
BY: Renae Brabham
Okay, so what do Miley Cyrus and ducks have in common? After observing people versus my pond this week, I conclude "AFLAC-ing lot." I have a large pond just feet from my patio. What should be a...
BY: Tim Brennan
This past Monday morning, I did not visit Facebook once. Silly me. I was in my recording studio working with a guy who had written a heartfelt, well-crafted song, meant to ease some troubled...
BY: E. Louise
I wrote this essay for the September issue of Charleston magazine, on newsstands now. If you haven't picked it up yet, do. There's a ton of buzz about the "Our Town" photo essay by Dustin K. Ryan—it'...
BY: Instant Grit
Live 5 News is reporting that there's a petition circulating (as of yesterday) to put the kibosh on any MTV plans to film a "Real World Charleston." Find that article here. We're thinking whoever...
BY: Instant Grit
FitsNews is reporting that MTV may be in the initial phases of producing a Real World Charleston... Okay, where do we start with this shit? Here's just my first 3 thoughts after...