Pop Culture
BY: Instant Grit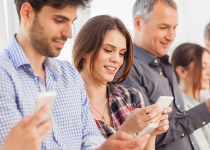 BY: Shep Rose
Are you a flake? Shep Rose examines the epidemic of flakiness in the 21st century.
BY: Hunter Gardner
What's not to love about Charleston's favorite reality show stars? Hunter Gardner gets the inside scoop on behind-the-scenes antics, Shep's dream girl, Craig's hair products, and more.
BY: Instant Grit
There's a video of a pet saving a small boy from a vicious attack, and it's getting quite a bit of attention. Is its popularity from the heroic act, or who was the hero? We'll let you decide. Meow.
BY: Instant Grit
It's official: the Charleston-based reality show we've all been dreading will air March 3. Here's a look the Bravo series' FULL TRAILER (paternity tests and fake eyelashes included)...
BY: Hunter Boone
Comedy Central's Drunk History is shooting in town next week. Here's the EXCLUSIVE SCOOP on where, plus how you can get on camera, share your history smarts, and do what Charleston does best—get tipsy
BY: Renae Brabham
... 'Tis my mantra for 2014. I realize I've been inundated lately with crap—that I've spent way too much time thinking about what she said, he said, and what the fox said. So here it is: My resolution
BY: Tim Brennan
Actually, don't call it lying. It's fiction. Entertainment. Reality. Ethical? Who cares? Lately, rewards from lying are getting greater—just ask Elan Gale or the waitress who faked a bit of bigotry...
BY: Tim Brennan
It's Friday. Have a laugh. You need it. A YouTube hit, with a killer marching band tucked in there, too (P.S. This Sat: Tyler Mechem opening for Michael McDonald; 3 Band CD release at the Music Hall)
BY: Instant Grit
UPDATED!! Guess his clock told him it's time to hit the Holy City (yo). He'll be hosting the hell out of the notoriously naughty Skinful Halloween. Details, plus fave Flav quotes to tide you over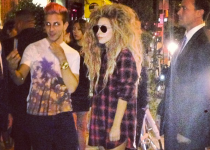 BY: Guest Blogger
Charleston Fashion Week model coordinator Joe Quinn hits the NYFW scene and gives up the goods—Lady Gaga, Courtney Love, a private viewing at the Tibi studio, run-ins with CFW alum... it's all here
BY: E. Louise
An article out today claims Hollywood execs may be full up on Southern-based reality shows—a look at why they may not hold their viewers, plus the 5 that put the "red" in redneck reality
BY: Renae Brabham
Answer: A man-made fiasco... Why none of us should be shocked that poop has started raining down in sheets (and tweets, and twerks...)
BY: Tim Brennan
Here's why the Miley Cyrus episode clogging the Internet this week bugs me, but it's not what you think... (hint: it's kind of worse)
BY: E. Louise
I turned in this essay on Bravo's reality show to Charleston magazine, blissfully unaware that the term "money shot" originates in... porn
BY: Instant Grit
If Real World Charleston is indeed in the works (as threatened), will the petition currently circulating the Holy City change MTV minds? Maybe don't hold your breath
BY: Instant Grit
Why that show is like that fun, but extremely ill-advised hook-up you only barely remember.... Plus! What Twitter's saying about the possibility of Real World setting up house here
BY: Instant Grit
Does a Beverly Hills fail equal a big Charleston win? That's the rumor, as the legal drama set in the Holy City was just picked up for 13 episodes. Here's who's starring and more details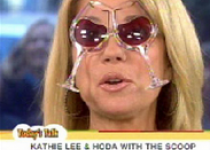 BY: Rory Gruler
Kathie Lee & Hoda are set to film this Thursday and Friday at the CofC's Cistern Yard. Riiiight... like we need more half drunk, fully Botoxed cougars prowling the streets... Here's what Twitter said
BY: Instant Grit
Whether you're a die-hard "X Factor" fan or just want a shot at being seen on TV, you can join Simon, Demi, and the gang when they come to N. Chas next month. Get your FREE ticket to the tapings here!
BY: Instant Grit
Bring on the limelight... and big-time weight loss? NBC's "The Biggest Loser" is holding a casting call at the Music Farm, and we've got all the details (plus passes to the front of the pack)
BY: Devin Grant
This one was unanimous... give Grit editors a hot topic and a well-communicated opinion on it, and we're in. Read on to hear more opinions and weigh in with what you think of this new release
BY: Devin Grant
Brad Paisley's new song, "Accidental Racist," has a lot of people talking. Is all the hype warranted? Is it even good music? Here's my take (and a peek at the lyrics)
BY: Rebeccah Connelly
Before Bravo's new reality series begins stabbing us with long-dated stereotypes, here's a newsflash: Charleston is way more interesting than all that... we've got 'burbs, and we know how to use them
BY: Instant Grit
You've heard Charleston's about to enter the Bravo reality show fray? And that Thomas Ravenel is set to star? These things never really end well...
BY: Hunter Boone
Well, maybe I didn't WIN. But here's some clips from my shot on game show Let's Ask America and a Q & A with host Kevin Pereira and one of the other Charleston contestants. Pants optional.
BY: Tim Brennan
Can emotional scars make awesome tunes? Do well-adjusted teens signal the end of quality rock? I may have a solution
BY: Devin Grant
Proving runners-up are often the real deal, Chas' own Idol alum Elise Testone rocked the Charleston Music Hall Valentine's night. Read on for a recap, plus when and where you can see her next
BY: Instant Grit
... Whatever that means. But really, how's your voice? Good? Well here's your chance to be the next Leona Lewis or One Direction—The X Factor auditions are coming to North Chas March 19
BY: Hunter Boone
Our part of the world offers a killer backdrop, and plenty of filmmaking talent. But now that South Carolina has lost its competitive film incentives, we're losing location opps right and left
BY: Tim Brennan
...a lot of things. The list of scandal makers in sports (and finance and Congress and so on) is growing. Sure, nobody's perfect, but I have to ask: Could rock and roll be the last noble profession?
BY: John F. Abess
This blog is just fun on a Friday. What do you think? A stint or two in rehab, a made-up name, petty theft, relentless entitlement—is this really our version of awesome?
BY: John F. Abess
What does this country need more of? Math and science whizzes using reasoning and logic to take us further, higher... or entitled celebs diluting societal norms with wildly unoriginal antics
BY: Instant Grit
People magazine dishes on how the Holy City snagged newlyweds Ryan Reynolds and Blake Lively—and which local businesses have scored visits by the couple
BY: Instant Grit
We've got FRESH new details on Ryan and Blake's Cotton Dock wedding last night, including which GRIT blogger planned the bash and who served up the fancy creamed corn. Get it here...
BY: Rebeccah Connelly
"'We'll never survive!' 'Nonsense. You're only saying that because no one ever has....'" and 6 more quotes from the 1987 cult classic that were wise beyond their years
BY: Cortney Bishop
Iconic 80s photography, like this one from Lyle Owerko's "Boombox Project," brings a modern (or slightly retro?) spin to interiors
BY: Bryce Donovan
Could Barbie and The Missing F be coming to the Lowcountry in the near future? Read this, "The Bachelorette" finale recap to find out (there are absolutely no answers to that question)...
BY: Renae Brabham
Andy Griffith and his fictitious North Carolina town offer a lesson in how we ought to stop waiting, start doing, and understand what reality really is—hunting down the "good" story in our own lives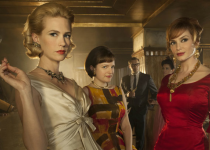 BY: Angelica Diaz
Fans of Mad Men and vintage fashion, get ready! Candy Shop Vintage's Dierdre Zahl and Style Girl Jess James are teaming the two (along with delicious drinks) in celebration of the Season 5 finale