Photography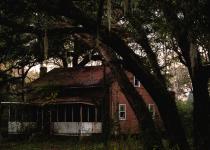 BY: Mac Kilduff
A short photographic look at the run-down and abandoned houses around the Charleston area with little notes of fondness from a Philadelphia native.
BY: Joan Perry
A hidden mural in Avondale is an uncovered gem for most Charlestonians.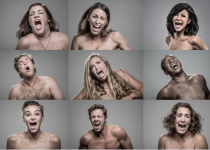 BY: Mac Kilduff
Charleston photographer Patrick Hall photographed and took video of subjects at the moment they were shocked by a 300,000-volt stun gun. The photos turned out to be hilarious and artistically awesome.
BY: Joan Perry
Recognize this place? Joan Perry stumbled onto Gumby on the corner of Monatgu and Pitt Streets in all of his glory this weekend for her Charleston Daily Photo.
BY: Joan Perry
No matter where you live, getting together with your family can rejuvenate the soul. Here, blogger Joan Perry takes an impromptu trip to America's Hat to be with her family.
BY: Joan Perry
The graves of the fallen should always be respected. Here, the change in your pockets can be seen as an act of respect on the headstones of those that have gone before us.
BY: Joan Perry
Thanks to the creative folks of Charleston, I've got one of the finest collections of sidewalk art out there. Here are 7 pics—offering wise words on love, daydreams, and a simple yet powerful hello
BY: Joan Perry
During a New Year's Day walk through Magnolia Plantation's camellia garden, I found myself pointing the camera at my feet as much as the sky. Check out the beauty I spotted while looking down...
BY: Joan Perry
If Brackish Bow Ties aren't on your radar, tune in! These locally made feather ties are super cool and super unique. Here's a look, plus where to get them this weekend...
BY: Tim Brennan
When done right, getting high can be a very, very good thing. Therapeutic, even. My wife and I did so the other day--from Sullivan's to Seabrook, we were way up there. Here are 15+ pics from the trip
BY: Joan Perry
You're familiar with Colonial Lake, sure—but here's a gorgeous look at it you likely haven't seen...
BY: Joan Perry
Golden leaves and an abundance of yellow blooms are out in full force across the peninsula. Take a stroll through the pretty autumn petals here...
BY: Joan Perry
You may or may not know that I used to hunt the elusive black cabs of Charleston. Seeing the London transplants in our Lowcountry setting tickles me to know end. Read on to see what I mean...
BY: Joan Perry
After vandals destroyed one of the Peoples Building's leopard statues in 2011, one was left lonely for more than two years. The other day, though, I drove past and saw a second leopard! Here she is..
BY: Instant Grit
The blog that spooked us PLUS! Is the Holy City ready to get unholy? Here are the top trending Halloween costumes of 2013 (Hint: there are other ideas besides skanking it up like Miley Cyrus...)
BY: Joan Perry
24 days until Halloween, peoples! From balcony-chillin' skeletons and South of Broad mummies to concrete graffiti and a house-topping witches hat—here's a roundup of downtown's best holiday décor
BY: Joan Perry
I think he figured if he couldn't see us, we couldn't see him? Meet the shy, but handsome gator I happened across at Magnolia Plantation
BY: Instant Grit
"Dang! What's with all these books?" Better question: does Charleston still have any treasures yet undiscovered? (Spoiler: This blog answers neither of those questions...)
BY: Joan Perry
Have you seen it? Here's the mission behind the baby book collection, plus where you can find it
BY: Joan Perry
Did anyone out and about downtown on Saturday hear roars of cheering, clapping, and revving motorcycle engines? Here's a look at what was going down at the Cistern (Hint: The frat stars to the left..)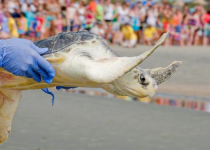 BY: Guest Blogger
On Tuesday, three rehabilitated sea turtles swam home from IOP County Park. Here are 15+ photos of the big event...
BY: Joan Perry
A morning glimpse at Folly Beach—the ocean worshippers, the wall of love, the shell-soaked shoes... Drink it in, Charleston
BY: Instant Grit
Plus! Ready to kick up your heels? Or does Charleston have two left feet? Here are 10 Footloose-worthy pictures to rev up your weekend...
BY: Instant Grit
Stop being so dang cute. Need a Hump Day happy? Take a quick break and scroll through these Instagram pics snapped throughout the Peninsula...
BY: Devin Grant
It was awfully hazy last night as my family and I waited on the sand, unsure if we'd be able to catch a glimpse. And then....
BY: Ayoka Lucas
You're going to want to keep an eye on this girl—meet Emma DeMuth, high school freshman who's adding "levitation photography" to a list of creative pursuits that's wise beyond her years
BY: John F. Abess
The view from downtown, where I sat and listened to a man tossing his cast net into the water. What a night in Charleston, indeed....
BY: Joan Perry
How's this for a Mother's Day win? Click here for the full photo of our legendary landmark all dressed up for Mother's Day...
BY: Joan Perry
A peek into the dusty old pages at Robert Sarco's Antique Store in Hollywood, South Carolina
BY: Joan Perry
It was this simple, locally charming post that tugged at our heart strings this week... And yours, too—it was amazingly popular. Plus, now you really CAN vote on your favorite! There's a link inside
BY: Joan Perry
Ready to fall in love with Charleston all over again? She's wearing her heart on her sleeve all over town, as seen in these 7 powerful images. Vote for your favorite!
BY: Joan Perry
Sure, it's 75 degrees outside (making the weather somewhat frightful), but no matter... nobody does Christmas like we do
BY: Joan Perry
Perhaps the big city runways are taking their neon cues from us? Here's the hot gold hue turning heads outside the Library Society...
BY: Joan Perry
A couple neat pics from Saturday's market, begging this Thanksgiving Week question... Are YOU thankful for broccoli? How about the rest of Charleston's winter bounty?
BY: Joan Perry
Not your typical downward-facing dog, tree, or child's pose, check out these impressive asanas from Saturday's yoga marathon in Marion Square
BY: Joan Perry
It may be a bit longer, but I've learned taking the scenic route to work has a pretty profound perk
BY: Joan Perry
Check out this brilliant banana blossom and a bounty of fruit, spotted on the upper peninsula
BY: Joan Perry
Charleston's only windmill watches over boaters putting in at the Wappoo Cut boat landing
BY: Joan Perry
Have you seen the off-the-chain urban murals in Avondale? Check it out
BY: Rebekah Jacob
The past two posts have prepped you for it—for buying art on your own. Use this final installment as an easy reference when you go to purchase (like how to tell between a vintage and a period piece)