Photography
BY: Joan Perry
Darwin's Secret, Avondale, Charleston, S.C. The Darwin's Secret mural by Sean Williams has been one of my favorites tucked in behind the shops at Avondale. The back alley is a mural...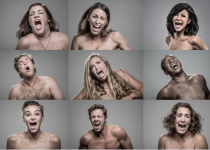 BY: Mac Kilduff
My final project for Photography I in college involved capturing a moment of realization to show genuine emotion. It was picked apart down to its very core and totally destroyed by my professor—...
BY: Joan Perry
When I come across something like this I am almost emotional. Seriously? Someone did this for ME!? Someone I don't even know gave me this gift. Thank you unknown artist. This won't make...
BY: Joan Perry
I haven't been keeping up the "daily photo" entries lately but I have good excuses for my absence! My family was having a get together in Canada and I made a last minute dash to the border on Friday...
BY: Joan Perry
I have often noted tokens left on tombstones and wondered at their meaning. Pebbles, toys, golf balls etc., but I wasn't certain of the meaning of the coins in the oyster shells at the graves of the...
BY: Ayoka Lucas
I've always had an affinity for June Canedo. We related on many levels, two brown girls transplanted to the states from our native countries with a keen eye for art, fashion, and female empowerment....
BY: Joan Perry
I haven't mentioned it lately, but I can boast of one of the finest collections of sidewalk graffiti thanks to the sidewalks of Charleston and its creative inhabitants. Here is a teaser...
BY: Joan Perry
On my New Year's Day I slept in, walked in the drizzle at Magnolia Plantation, caught an afternoon movie on the way home, and then an early bite to eat at the Green Goat with ...
BY: Joan Perry
If you have to wear a tie why not wear a cool one?! Check out these bow ties made from real bird feathers. The company is called Brackish Original Feather Bow Ties and I caught them...
BY: Tim Brennan
Getting high. Aw, man, it's better than therapy. When life gets frustrating, I like to get high. It's cheaper than talking to a therapist in an office, I can do it on a whim, and sometimes it opens...
BY: Joan Perry
I did a series like this last year, but it is so pretty when the water is still it bears repeating. Shame on me for missing the Party for the Parks that raised funds for the...
BY: Joan Perry
Nothing dull and drab about fall in Charleston. These yellow blossoms brighten up the streets on the peninsula, cheering up my walk this morning.Poison ivy has left me afraid to garden so the...
BY: Joan Perry
Chalmers St. Some of my readers may be recent enough not to know that I used to hunt the elusive black cabs of Charleston and take pictures of them in their transplanted homeland. It...
BY: Joan Perry
BLFs Forever! That would be Best Leopard Friends Forever. In the summer of 2011 I wrote this entry after vandals had destroyed one of the pair of leopards in front of...
BY: Instant Grit
The Blog of the Week is... Boo, Charleston! Boo! by Joan Perry. The Holy City is clearly already in high gear gettin' all unholy for the Halloween holiday. Soo... Have you brought out all your...
BY: Joan Perry
Here are a few fun Halloween shots from my walk yesterday morning. These folks should get a break on their property taxes for all the pleasure they give people walking by. I even found a bit...
BY: Joan Perry
Picnic! I love picnics, and I talked my son into joining me for a walk through Magnolia Plantation's Swamp Walk this morning. We enjoyed a picnic and then spotted this fella hiding under the...
BY: Instant Grit
This week's Blog of the Week is ... Logan Street's Little Free Library by Joan Perry. Maybe the national news just had everybody jonesing for simple pleasures this week, or maybe Joan just has a...
BY: Joan Perry
The mission of the Little Free Library group is simple: — To promote literacy and the love of reading by building free book exchanges worldwide. — To build a sense of...
BY: Joan Perry
I was finishing up my walk on Saturday by popping into Caviar & Bananas on George Street for their extra scrumptious duck confit sandwich when I heard such a roar of activity at the...